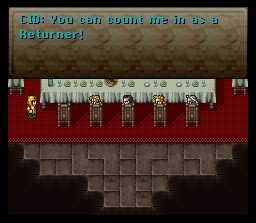 And so the dinner with Emperor Gestahl begins. After the dinner, you will be rewarded depending on a combination of how many soldiers you were able to convince (a maximum of 24) and how you answer a series of questions during this dinner. With that said, have fun guessing...
...A ha ha ha...ha. Of course I'm going to tell you the right answers. What kind of person do you think I am? The first question Gestahl asks is this. Answer "To the Hometowns"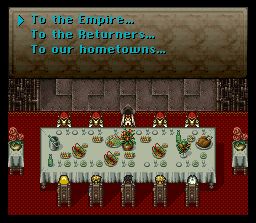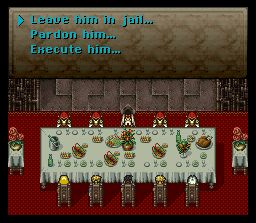 EXECUTE! EXECUTE!!!!!! Er...sorry, got out of control there. The right answer is execu...I mean, "leave him in jail" Really, it's "leave him in jail"

Some Random Guy Who Isn't Zeppelin: He's not kidding folks, it really is "leave him in jail".
"That was Inexcusable"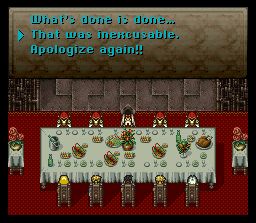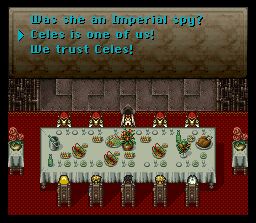 "Celes is one of us!"
Next, Gestahl asks if you have any questions for him. Ask the first question.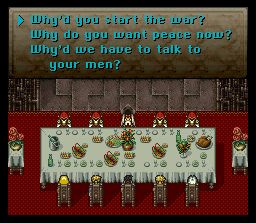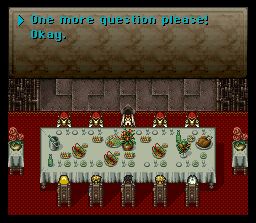 Then Gestahl will ask if you can go on, but don't let the bastard shove ya into it. Go back and ask him the other two questions, but make sure NOT to repeat any of the questions to him. Once you've asked him each question once, go ahead and move on.
"Yes, the Espers Have Gone Too Far"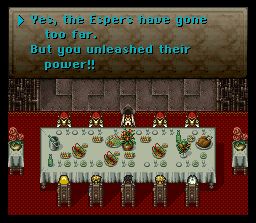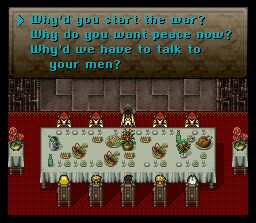 Next, for some stupid, idiotic, pointless reason, Gestahl asks you what your first question was. If you were a good person, you picked the first one first, so pick the first one! If you decided to be a rebel, just pick whichever question you asked him first.
Opt to take a break.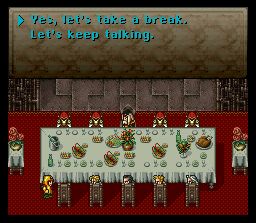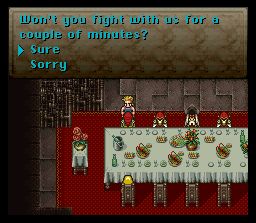 Go up and talk to one of the soldiers sitting at the table (it doesn't matter which one). He'll ask you to fight him. Fight him and kick his ass, and you'll be rewarded. Fun, huh?
After kicking their puny asses, choose to get the show on the road with ol Cid.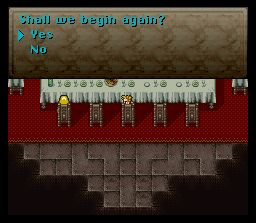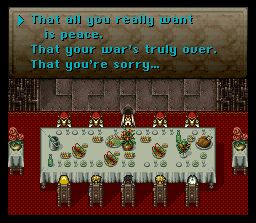 Last question. Last answer. "That your way's truly over"
Gestahl then asks you for a favor. He wants to find the espers and "make peace with them." Apparently they've fled to some place called Crescent Island. Choose to help him.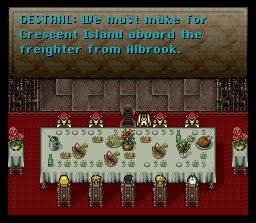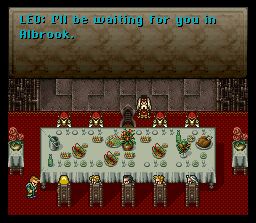 And look at that! He's sending General Leo with you. Remember him? No? Dummy. He's the guy you met in the never ending scenario...he was the guy "who could be your friend if he wasn't your enemy". How could you forget? He tells you meet him to Albrook, the port city to the south of Vector.
Of course, Terra has to go, considering she's the only one who can communicate with espers. And, of course, Locke has to be the hero and go with her. Looks like he's mackin' it on the side. Wonder what Celes would think?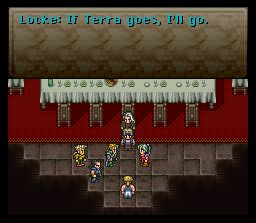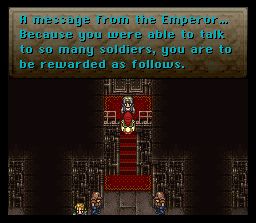 Looks like it's just Locke and Terra for this mission. Don't worry, you'll make more friends! Friends are good. Unless they sleep with your wife...ahem, sorry. Walk out of the room and you'll be approached by a strange hooded guy. If you did everything perfectly like I instructed you to do, you'll get all the following things:
Yay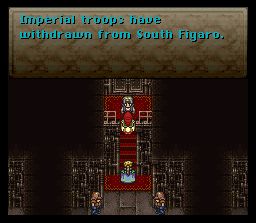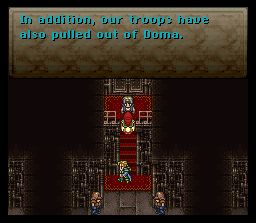 Woo hoo
VERY nice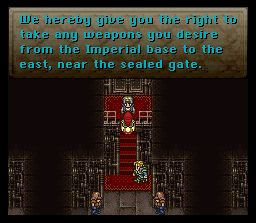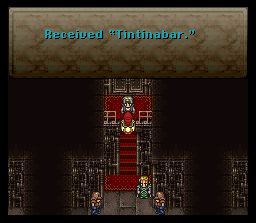 Already have one, but beggars can't be choosers.
One of a kind item here. And that's it. If you didn't get all of them, you can always try again. You know you have nothing better to do with your miserable, pathetic, drab existence anyway.