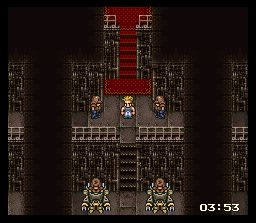 Allow me to deviate a bit from my usual crazy walkthrough style to get you through this next part as quickly and painlessly as possible. Since you've got only four minutes, speed is imperative. When you first walk out of the the room you were in with Gestahl, talk to the four soldiers here in the room. If you're using an emulator, save state before doing this, in case you mess up. If you are using the system, well, I hoped you saved earlier on.
Next, head down as if you were leaving the fortress. There are three guards outside to talk to, one of them you must fight.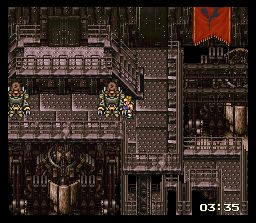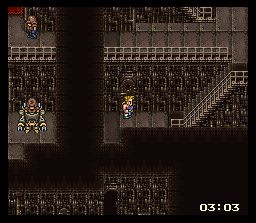 Next, walk right through a door. You can ignore the first door in the stairwell.
Head up a flight of stairs and you'll come to a second door. Go in.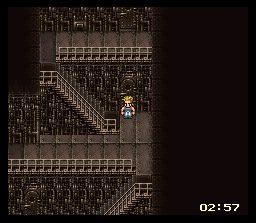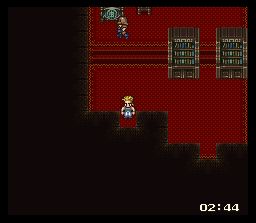 Talk to the soldiers in here. There's also a room you must go in underneath where Sabin is standing here.
Exit the room and head up the last flight of stairs, and go through the door at the top.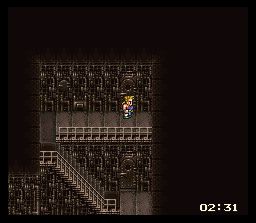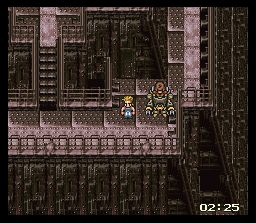 Make sure you talk to all the guards on the platform.
Head up the flight of stairs in the middle of the platform. Head in this door. (Look familiar? This is the place where the intro cutscene takes place, and also part of the cutscene wayyy back in the beginning where we saw a bit of Terra's past)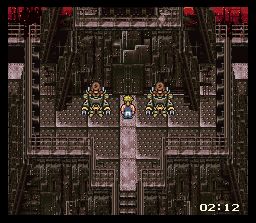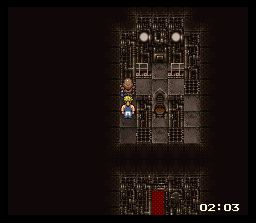 There is a soldier in here you must fight. Fight him, then head out of the room.
On the left side of the platform is another doorway leading to another stairwell. Well, go in already!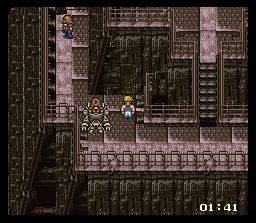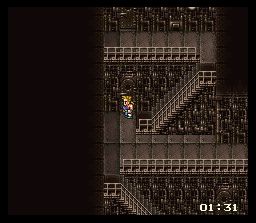 Head down the first flight of stairs and you'll come to the last room.
There are a lot of soldiers in this room. Keep talking to them until none of them count toward your goal anymore, making sure to leave at least 45 seconds.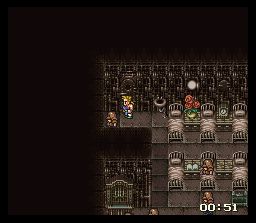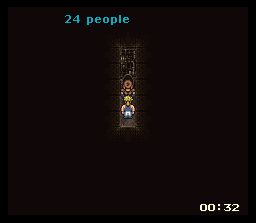 At the top left corner of the room is a door. Head in and you'll find the last soldier, whom you must fight. Once you beat him, your count should say 24. If it doesn't, try it again. Getting 24 is necessary to get ALL the special items later on.