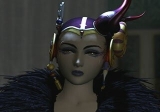 The Fire Cavern: SeeD pre- exam

Go to Walkthrough Index Go to Disc 1 Go to Disc 2 Go to Disc 3 Go to Disc 4





GFs: Ifrit
Items: Ifrit card (after fight)

Dun dun duuun. Your SeeD pre- exam. Don't worry, it won't be too difficult. All you have to do is enter a scary cave and beat a monster that came straight from hell! Once you arrived you will have to choose a time limit: 30 minutes are more than enough, but even with 20 minutes you should have a good start. For experienced players, I recommend the lowest time limit; the lower the time limit is, the lower your results will be (SeeD- level. I'll get back to that). Right after entering the cavern, Squall and Quistis will start a mindless chit- chat which is supposed to annoy or confuse you and steal precious time! Ignore all the popup- message windows and click them away (AOL- users have a high advantage due to a lot of practice here!) and run blindly straight through the cave. In case you meet enemies, run away. You'll need as much time as you can get, trust me. You'll have enough time to beat up monsters after the boss fight; and if you wanted to level up before meeting him, well, you should have done that on the world map :P

Alas! Without facing any complications you will meet Ifrit in a fiery beacon at the dead end.



| Name | Description | Location | HP | Mug | Weakness | Draw | Reward |
| --- | --- | --- | --- | --- | --- | --- | --- |
| Ifrit | Fire GF: uses fire magic. It's a strong opponent, but as it is a part of Garden's exam, not impossible to defeat. | Fire Cavern | 3x² + 60x + 600 (663- maximum 1080 HP) | N/A | Ice | Fire/ Fira/ Firaga, Cure, Scan | Ifrit card, G- Returner x6, 20 AP |
Ifrit's maximum HP is 1080. Keep that in mind so you can calculate the duration of the fight!!
Junction fire- elemental magic to your elemental defence. Ifrit will cause less damage that way.
Use Shiva and ice- elemental magic as often as you can! Ifrit will be dead in no time.
JUNCTION SHIVA TO QUISTIS. Ifrit will be your first GF which will give you the Str-J ability, in other words, you can junction spells to strength. Squall is predestined for that, you will probably let him do all the physical damage later on. Whoever uses Shiva during the fight against Ifrit will end up with 0% friendship to him afterwards, and we wouldn't want that to happen to Squall now, do we?
Deadzor. Immediately after the fight two things will happen:
1) Ifrit will join you as a fire- elemental GF and his card will join you as one of the strongest Triple Triad cards in the game, so take good care of those treasures!
2) The timer will stop. Yay! Now you will have enough time to beat a few monsters in the cave, empty some draw points or look at the pretty stone walls. Once you have enough, get out of the cave and enter the adventure! Now, the REAL SeeD exam will take place.


(c)2006 RPGClassics.com. All materials are copyrighted by their respective authors. All games mentioned in this site are copyrighted by their respective producers and publishers. No infringement on any existing copyright is intended. All rights reserved.