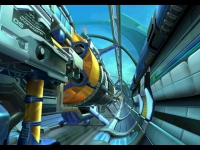 Rules
There are several special rules which you will find in the FF8- world. They are listed before a game of Triple Triad starts so you can see if you want to play with the person you asked for a game or not.
If you play against someone from a different city/ area than the one you visited before, he might want to use different rules. Before you ask them to play they might offer you to mix rules, and unless you really know what you're doing, you dont want that to happen because you could spread rules which you don't like. By mixing rules, you'll either abolish a rule, spread a rule, fully adopt all rules of that region which means you'll carry ALL of them with you or nothing will happen. So if you're happy with the rules as they are in an area, keep saying no to the person who wants to mix rules until eventually he or she will just ask you for a game without mixing the rules.
Another way of changing rules is playing against the card queen who randomly changes rules when you talk to her- in the whole region. So either you do her subquest and let her move to the city you want to change the rules in, and talk to her until she uses the rules you want for that area, or you run around mixing rules on your own by carrying rules with you and mixing them with a player, and then hoping that the rules you're carrying will either be abolished or spread (depending on what you want). Either way, if you really want to change the whole world to play with your favorite rules, it's going to take a lot of resetting. The game, that is. And it's not worth it either.
Playing rules
• Open
Both players have to play with all cards facing up.
Open can be very useful, because it makes it way easier for you to calculate you opponent's move and is definately worth spreading.
• Elemental
The game will be played with elemental symbols on the field.
There are many cards which have elements. You can recognize them by a small symbol representing their element in the top right corner. When the element rule is applied, elemental symbols will randomly be placed on the playing field. If there is a free spot with a poison element symbol for example, and you have a card which is poison elemental too, you can place it on that spot, every side will gain +1 value. If the card doesn't have an element or a different element than the one on the field, it will have -1 value on every side. If you notice a star on the field which doesn't represent an element, don't place your card on it because no matter which element it has all values will be reduced by one.
• Sudden Death
In case of a draw, the game is continued until one of the players wins. Both players continue with the cards which were in their possession at the end of the last round.
In other words, there's no draw game. You'll keep playing with the cards you flipped the round before. Which is why you should watch out- the computer players tend to flip your best cards so they can use them against you in the next round.
• Random Hand
The player's hand consists of five randomly chosen cards from his deck.
Worst. Rule. Ever. You can't choose your cards, they'll be placed in your hand at random. Which can be really bad if you have a lot of weak cards in your hand, so don't spread this rule. Ever. If you really want to play against somebody though, just refine as many of your weak cards as possible and pray that you will get your best cards placed in your hand. Unfortunately, it's not always possible to refine all the weak cards, because there are several cards which require more than one to be refined into an item. If you're unlucky, you could end up with a hand consisting of three Blobras and two Fastitocalon-Fs. And you don't want that to happen.
• Same
If a card has two numbers equal to the numbers of two surrounding cards of the opponent, they will be flipped.
Mean rule, because you can overlook it too easily. Let's say we have a Gesper in the center- left position and a Caterchipillar in the center- right position. You could flip both cards with a Blobra in the middle, because the numbers at its sides match the ones of your opponent's cards: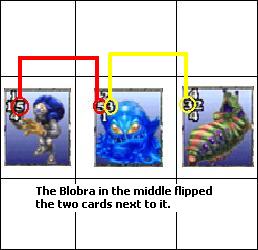 • Same/ Wall
In addition to the Same- rule, all sides of the playing field have the value A.
Which means if you own a lot of cards with A- values, this rule can either be very useful or very annoying. You won't find it very often though, this rule is rather rare.
• Plus
If a card is placed down that adds up to the same value on two or more adjacent cards of the opponent, those cards are flipped over.
This rule can be a real pain. Often the Plus- rule is combined with the Same and/or Combo rule, and if you're not playing with the Open rule too and know EXACTELY what you're doing you could lose a lot of your cards in the blink of an eye. You could have the best hand ever and flipped all of yor opponent's cards and suddenly he places his last cards and everything goes "*pling* Same! *pling* Plus! *pling* Combo!" and you lost the game.
• Combo
All cards which were turned over by the Same or Plus- rule can turn over surrounding opponent's cards if they have a greater value.
The Combo- rule is basically a chain effect of the Same- rule, which is why it's often combined with it. If you like playing with the Same- rule, you will probably place your cards in a way they won't be endangered by the Comco- rule anyway, but if you don't pay attention and place your cards randomly, you're screwed.
Trading rules
• One
The winner can choose one of the opponent's cards which was used during the game.
This is the most common trading rule. This rule is the only rule in Balamb (unless you mix rules for that area) so you might want to play against a few people in Balamb first. In case you accidently mix rules in Balamb, go to the man who is sitting at the water in the harbour. He will reset all rules in Balamb to the One rule. It's good for beginners because it's not very tragical when you lose. Keep in mind that your opponent will always choose your best card though.
• Diff
The winner can take the difference of cards of the cards which were in his and his opponent's position at the end of the game.
Ok, that explanation was kind of crappy :P It means that for example you won 7:3 (at the end of the game there were 7 cards in your and 3 in your opponent's possession), you can win 4 of his cards (7 - 3 = 4). If your score is higher, you win all of your opponent's cards.
• Direct
Everyone wins the cards that were in his possession at the end of the game.
This is an AWFUl rule. Someone playing with the Direct- rule is the worst that can happen to you, the better your hand is, the worse is this rule. If your hand consists of character and/or GF cards only, don't play with this rule because even if you win you could use your best cards.
• All
The winner receives all of the cards his opponent used in the game.
Now this is my favorite trading rule, because it's a quick way of earning cards. You should be sure to have a lot of good cards before spreading this rule though (and make sure you don't spread Same/ Plus/ Combo together with this rule!), but once you've done so, you'll gain a lot of good cards in no time. To spread the rule in Balamb, go to the Card Queen at the balamb train station and ask her for a game until she wants to play with the full rule. THEN start the CC- subquest and receive a nice cardshower. :D