Site Navigation

•RPGClassics Main
•Contact Dalton of Zeal
•Contact Kagon


Shrine Navigation

•Main Page
•Abyss
•Arcana
•ARMs and Upgrading
•Bestiary
•Bosses
•Characters
•Duplicators
•Ex File Keys
•FAQ
•Gardening
•Gear
•Gunner's Heaven
•Items
•Lombardia
•Mediums
•Migrant Seals / B Kits
•Millenium Puzzles
•Personal Skills
•Sand Craft
•Shopping
•Side Quests
•Telepath Towers
•Thanks
•Tools
•Treasure List
•Tips and Secrets
•Walkthrough
•World Map

Aguelite and Germatron Get!
Jolly Roger - Ark of Destiny
Enemies (on Ark of Destiny island):
Name:
HP:
EXP:
Gella:
Halved:
Resistant:
Weakness:
Active:
Absorbed:
Kobold
1280
120
130
THUNDER
NONE
WIND
EARTH
NONE
Strategy: Kobolds take a while to kill, but they are by no means difficult. Use Vortex to hit them with their weakness, and wear them down with attacks until they die. Their Leyline Cannon is nothing to worry about.
Items in this area:
5000 Gella

Jump on your Sandcraft and begin heading directly southwest past the land mass with the green grass. Sooner or later, you'll see a small island with 2 beach landings and some huge canyon walls. Land here. Use the map I enclosed if you need help! Try and skip encounters, because fighting in an basic sandcraft isn't really save. If you get too damaged, autopilot back to Jolly Roger!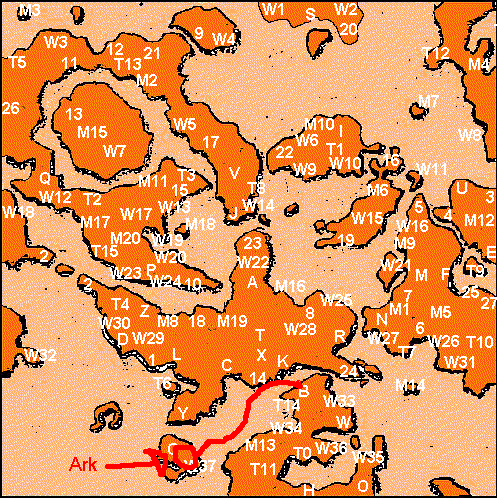 Follow the path outlined to reach the Ark of Destiny island. Once you land, search co-ordinates X: 10310 Y: 1492 for 5000 Gella, then head north to the "wall". Search around co-ordinates X: 9004 Y: 2274 to find the Ark of Destiny. Go on in.
Ark of Destiny
Items in this area:
Warp Star
Map Scope
Dragon Fossil X 10
5000 Gella

It's not proper form to keep a holy man waiting, no matter how.... strange his faith may seem, so head north from the entrance and keep going. Inside, you will meet up with Albert and Lamium. Give up the fire, and you will receive 5000 Gella.

Afterwards, the leader of the Order will begin his speech on his faith and what he believes in. He has a very interesting view on life and how to attain spiritual happiness, and I recommend you listen to what he says.

That is until Linda runs in with urgent news. One of the Order's survey points (Survey Point #17) is being raided by jewel thieves (guess who?), and Lamium offers you 10000 Gella to send the thieves packing. Of course, he will only give you the money once you complete the mission. Talk to Albert for directions to your destination.

Leave Lamium's room, because we are going to grab some treasures. I know that it's wrong to take from a holy place, but they left the chests in plain sight... what do they expect?

Well... maybe not. There are lots of chests in the Ark of Destiny, and we will only be able to get 3 of them at this point. Most of the chests are behind Duplicator Doors, and they also require certain Tools to obtain. For now, we can only get a few, so head west from the first room on the Ark of Destiny and take the stairs down to the bottom floor. Open the first door with a Duplicator and open the chest for a Warp Star X 3 (no Kirby though!), then head through the second door and open the chests for a Dragon Fossil X 10 and a Map Scope! With the Map Scope and the World Screen, you can switch between 3 different World Map viewing options with the Select Button! VERY useful for finding exact co-ordinates! Now leave the Ark.

Wild ARMs Fun Fact: Aguelite and Germatron existed in Wild ARMs 2, as well. Together, they powered an engine called the Emma Motor that could make something as huge as a nobleman's mansion take to the skies!
Ark of Destiny - Survey Point # 17
Enemies (on Survey Point #17 island):
Name:
HP:
EXP:
Gella:
Halved:
Resistant:
Weakness:
Active:
Absorbed:
Kobold
1280
120
130
THUNDER
NONE
WIND
EARTH
NONE
Sandcrab
400
78
82
FIRE, THUNDER
NONE
WATER
NONE
EARTH
Strategy: Kobolds aren't much of a threat, but Sandcrabs are a little more dangerous, so take them down first with Pressure and normal attacks.
Items in this area:
10000 Gella

Head south a VERY LITTLE bit from the Ark, and you'll see a beach leading up to a small island. Park your craft here!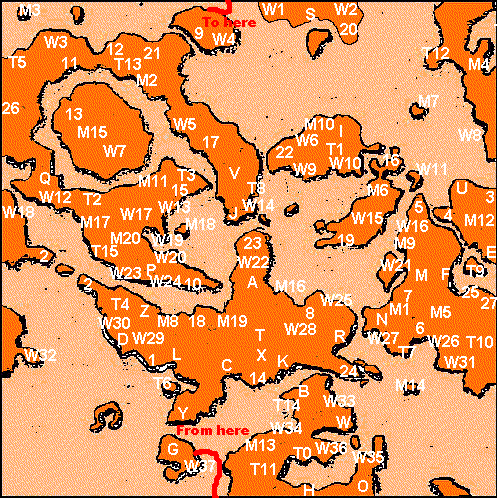 Whatever you do, DON'T CROSS THE LAND BRIDGE ON THIS ISLAND! The enemies on the other side would be glad to lower your HP by large amounts, and you need your strength for the dungeon ahead. Just search behind the 2 massive grey rock things at co-ordinates X: 11767 Y: 22805 for 10000 Gella, then search at X: 10342 Y: 23477 for Survey Point #17.
Survey Point #17
Enemies (on Survey Point #17 island):
Name:
HP:
EXP:
Gella:
Halved:
Resistant:
Weakness:
Active:
Absorbed:
Captor
420
83
88
NONE
FIRE
WATER
NONE
NONE
Urchin Bug
95
20
22
EARTH
NONE
WIND, ICE
NONE
NONE
Strategy: Captors are fairly weak monsters that have an annoying habit of cancelling turns. Unfortunately for them, they fall very quickly to physical attacks. Urchin Bugs are a little tricky, though! They are fairly strong against physical attacks, but weak to Wind and Ice Arcana. Summon Fengalon on them, because they appear in large groups. You can also try Extension + Refrigerate, but be aware that they often attack as separate enemy groups, and thus Extend won't hit them all. Take them down quickly, because they can do respectable damage to individual characters with Rock Gazer, which deals earth-elemental damage to single targets. Of course, they may very well run away!
Items in this area:
Gella Card
Heal Berry
Gella Card
Gimel Coin
Lucky Card
Mini Carrot
Heal Berry
Lucky Card
Heal Brrry
Gimel Coin
Lucky Card
Gimel Coin

NOTE: Since this dungeon meets an unhappy fate, there are no chests in this dungeon; only treasures hidden in crates and barrels. Jet's Radar Tool is useful for finding where the items are hidden. Seems a little quiet, don't you think? Before entering the mine, walk across the rock ledge to some crates near the entrance to the mine, and toss them aside (AWAY from the walls) to find a Gella Card. Drop down and go on in the mine.

The next few screens are INCREDIBLY straightforward, so I'll just let you stroll through them alone. Make sure you use the Radar though; check to see if there is treasure in every crate and barrel before moving on! Once you reach the third room, you'll have a little run-in with Maya before she walks away without even hearing Virginia out. In the next room, use a Gimel Coin to save, because there's a boss in the next room.

Looks like someone else has been raiding the mine! This time, Malik summons a group of artificially created farm animals to keep you busy.
Boss Battle: Hound, Donkey, Feline, Flier

Boss Name:
HP:
EXP:
Gella:
Halved:
Resistant:
Weakness:
Active:
Absorbed:

Hound:

1300
750
780
NONE
NONE
WIND
NONE
NONE

Donkey:

1400
750
800
ICE
NONE
FIRE
NONE
NONE

Feline:

1100
750
770
NONE
FIRE
WATER
NONE
NONE

Flier:

1200
750
800
NONE
NONE
NONE
NONE
NONE
Hound's Attacks:
Bite (physical attack to one)
Decelerate (lowers target's Evasion)
Donkey's Attacks:
Stampede (physical attack),
Feline's Attacks:
Toy with a Cat (physical attack to one)
Quicken (raises target's speed)
Flier's Attacks:
Peck (physical attack to one)
Eraser (clears all positive statuses on your entire team)

How To Win:

As usual, begin with a Mystic + Lucky Card to maximize the amount of EXP you will obtain. This fight isn't at all hard, so you can actually win by just tapping X over and over again. However, you want to save as much VIT as possible, so end the fight quickly. End Donkey first with physical attacks and Arcana other than Refrigerate, because he has a mean attack that he sometimes uses. Next, take down Flier with an attack from Jet and an attack from Clive, and use Pressure on Feline and Vortex on Hound. None of the bosses have much HP, so this fight will not last long at all. Kind of funny, because these bosses were intended to buy time for the enemy!
Donkey coughs up a Bullet Clip, which gives the Auto Reload personal skill. Quite a nice skill, if I say so myself!

After the battle, Maya and Virginia will agree to a ceasefire to stop the lone Prophet from getting the Aguelite and Germatron. So head north one room, and grab the treasures hidden in the old barrels and crates on the sides of the room. Get it all now, because this is your only chance. Head into the next room, and the path splits into two. Maya will take the more northern one, while you take the southern. The idea here is to work together (and with Maya and Virginia, that's quite a challenge!), so light the candles along the way with the Tindercrest, and Maya will step on the switches, allowing you to travel further along the path. Complete this room, then pass through the next one, being sure not to miss the treasures inside the crates.

You'll have to work with Maya again, but this time you need to be quick on your feet! Climb up the stairs and walk along the narrow path, lighting the candles along the way while Maya stands on the floor buttons. The buttons don't stay pressed, and Maya won't wait for you, so move it! Light the first candle, then when Maya steps on the second button, stand on the platform that the button lowered and toss a Tindercrest diagonally to the second candle and quickly pass by the now lowered section of the platform. The candles are only lit for a short amount of time! Once you pass that, follow the rest of the platform to a floor switch, and hit that to open the door. Follow Maya, and head through the next room, being sure to find the 2 treasures the room holds.

The next room features a bunch of crates and stuff. There are 2 items inside the crates, so don't miss them. Clear this easy room, then prepare for a tough little puzzle. Again, the path splits into two, but this time, there are spiked blocks slowly chasing you! What you have to do is get to the first candle, and light it as quick as you can. Once you do, Maya will hit a button for you and allow you to go a little further. Light the next candle, and Maya will leave without you! Virginia will yell at her, and Maya will come back to help. HOWEVER, you must now hold the spiked blocks off! Hold R2 to stay put in one spot, and start shooting the spiked blocks with Tindercrests. Don't focus on one; you must keep the one away from Maya, and the one away from you. Once Maya hits the button and leaves, you can just start firing at the one after Virginia, but for the most part, you need to be quick and you need to watch them both carefully! Generally, Maya's doesn't take much work to hold off, though; just a few shots should do it. Once you complete this toughy of a puzzle, a real toughy of a boss fight awaits you in the next room. SAVE YOUR GAME BEFORE MOVING ON!

Enter the next room, and Malik will be waiting for you. Unfortunately, Maya skips yet another battle and heads off to get the crystals, while you're left fighting Malik's minions. Except this time... it's tough!
Boss Battle: Humpty and Dumpty

Boss Name:
HP:
EXP:
Gella:
Halved:
Resistant:
Weakness:
Active:
Absorbed:

Humpty:

3600
1550
1600
LIGHT
NONE
DARK
NONE
NONE

Dumpty:

3600
1550
1600
DARK
NONE
LIGHT
NONE
NONE
Humpty's Attacks:
Protect (increases target's magic resistance)
Shield (increases target's physical defense)
Critical Heal (fully restores target's HP)
Reflect (reflects Arcana from target back to caster),
Dumpty's Attacks:
Phantom Hazard (dark-elemental damage attack to all targets)
Maelstrom (water-elemental damage attack to all targets)
Crack Tremor (earth-elemental damage attack to all targets)
Volcannon Trap (fire-elemental damage attack to all targets)
Storm Blade (wind-elemental damage attack to all targets)

How To Win:

This battle is quite difficult due to Dumpty's incessant casting of powerful Arcana. Equip as many Elemental Ward skills as you can to reduce the damage you take, and prepare for a tough fight.

Humpty must be defeated first. He doesn't attack you, but he casts all kinds of supportive Arcana on himself, and will use Critical Heal on Dumpty if Dumpty takes damage. Meanwhile, Dumpty will continue to do big damage to your team every turn with his attack-all elemental spells. So how do you win?

Extend + Valiant will help even the odds. If the boss is going to be hitting you for lots of damage, might as well show him the error of his ways, right? Begin the battle by Mysticing a Lucky Card, attacking with Jet, casting Extend + Valiant on your team and using a Gella Card on either boss. Dumpty will hit your team for about 200-400 damage, but this only serves to power up Valiant. For the next few turns, focus on attacking Humpty with every character. If someone's HP falls to about 300, make sure Virginia heals them at the beginning of next turn with a Heal Berry. And... that's pretty much it. Dumpty will continue to pound you with magic, but you'll be doing so much with your attacks that you'll take him down in no time. Speed things up with a Gatling if you get the chance!

Wild ARMs Fun Fact: Humpty and Dumpty were in the first two Wild ARMs games as random enemies, and they actually fought pretty similar to the way they do now!
Now that you've won, save your game again. Heal up the best you can, because another battle awaits in the room after the next.
Boss Battle: Maya, Todd, Alfred, Shady

Boss Name:
HP:
EXP:
Gella:
Halved:
Resistant:
Weakness:
Active:
Absorbed:

Maya:

2040
1100
1200
NONE
NONE
NONE
NONE
NONE

Todd:

2190
1100
1200
NONE
NONE
NONE
NONE
NONE

Alfred:

1900
1100
1200
NONE
NONE
NONE
NONE
NONE

Shady:

1750
1100
1200
NONE
FIRE, ICE
WATER
NONE
NONE
Maya's Attacks: Pike Thruster (physical attack to one)
Phalanx (physical attack to one),
Todd's Attacks:
Divide Shot (halves target's HP)
Psycho Crack (physical attack + confuse to one target)
Black Fenrir (physical attack to one target)
Heal Factor (used whenever one of Todd's allies takes damage, and heals them completely),
Alfred's Attacks:
Homemade Bomb (physical attack to one),
Shady's Attacks:
Baking Breath (fire elemental damage to one)
Blizzard Breath (ice elemental damage to one),

How To Win:

Thanks to the Manga of the Month club, Maya is now a karate master who looks suspiciously like Jean from Lunar: Eternal Blue. She hits really hard with that stick, so be prepared for a tough fight!

But she's not your first target. As usual, Todd must be defeated first and foremost, and you must defeat him quickly. Start with the usual procedure, though Fragile may not work on him, and make sure you use Extend + Valiant to help out. Watch out for his Divide Shot move, and make sure you clear up confusion status IMMEDIATELY! If anyone's HP gets into the "red" numbers, heal right away. Keep attacking Todd until he gives up the ghost (where's your "Todd" now?), and then, focus on Maya. You can actually defeat her this time without ending the fight, so focus your attacks on her to bring her down to earth. Afterwards, deal with Alfred and Shady, who are both absolutely nothing to worry about.
After the boss fight, and a touching scene.... well, you'll see. You have 15 minutes to escape from the dungeon, so get moving! Skip the battles along the way, and run through each room as fast as you can! If you choose to battle, note that time doesn't tick when you're selecting commands, but it does when the battle animations are playing. That's why avoiding battles is a VERY good idea.

Upon making it out alive, you'll be back at the Ark of Destiny. Lamium, who is in an unusually happy mood after what happened to the survey point, is willing to forget what happened as long as that 10000 Gella that he offered for the mission stays in his hand. Your party accepts, apologizes, and talks with him for a bit more. He tells a tale about how he once ended up in Boot Hill, Virginia's hometown. That's where we're going next.


(c)2006 RPGClassics.com. All materials are copyrighted by their respective authors. All games mentioned in this site are copyrighted by their respective producers and publishers. No infringement on any existing copyright is intended. All rights reserved.