Maps

B 4 - Ancient Cemetary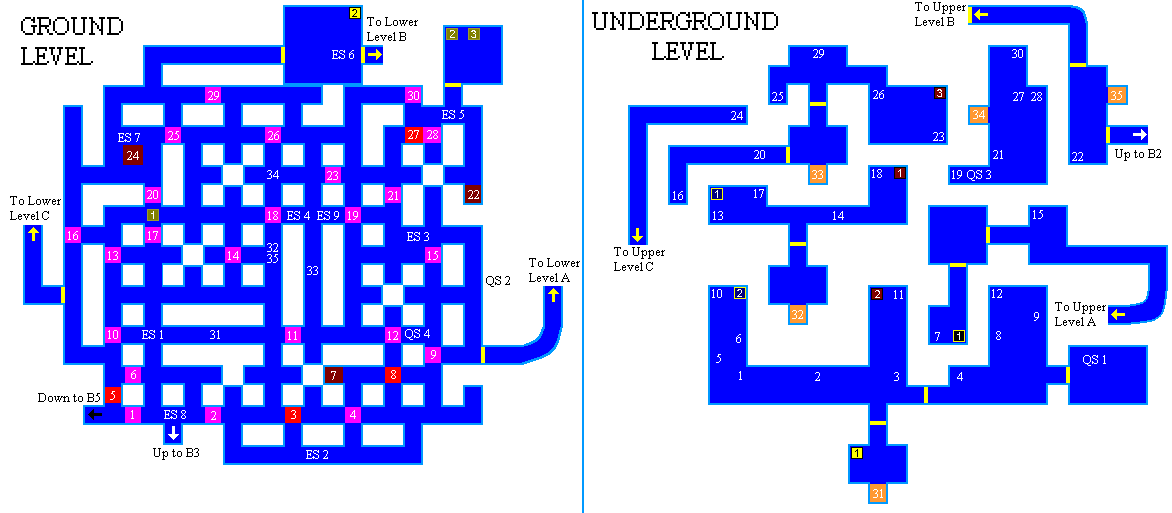 MARKER KEY



TREASURE KEY


2 Way Door



Mystic Chest Plate



Pit Fall



Shade's Knife



Trapped Pit Fall
(disarm to walk across)



Splitting Sword



Event Pit Fall
(fall down to continue through level)



Steel Hand Axe



Warp Marker



Bereaved Katana



Event Scene



Sculpture Vellum



Quest Scene



Enduring Helmet

QUEST KEY


Silence Vellum


QS 1- Palo's Quest "I wanna sleep soundly"



B4 Key


QS 2 - Rose's Quest "Find out about my husband"



Blessed Chain Mail


QS 3 - Gustav's Quest "Recover our party's shield"



Craftsman's Armor


QS 4 - Elizabeth's Quest "I wanna go to the Labyrinth"
EVENT SCENES

ES 1 - You encounter Matsuri here. You give him the Sword Sheathe given to you by Taiga on the 4th floor of B2. He gives you the Crimson Quartz in return.

ES 2 - You run into AnnMarie's party. She tells you about the pitfalls and whatnot & for telling you this demands that you give her 1/2 your money. You can if you want. Tell her no, she gets upset and Rune & Oscar will fight you. Beath them & she will tell you that the Queen was kidnapped, and that LeDua had sent ninjas to look for her, led by Kulgan the Agile. They ramble on for awhile then leave.

ES 3 - Ricardo will tell you that this grave doesn't look right & that you should try moving it. Do so.

ES 4 - You meet up with Orphe & Aoba. She is looking for her father. Also, something about this graveyard used to be above ground.

ES 5 - A scene occurs here where Daniel shows up, tosses you a bag, then leaves. A group of thieves show up, see the bag your holding, accuse you of stealing from them, & fight you. Beat them & Daniel will show up again, thanks you, talks to you for a bit, then leaves.

ES 6 - You encounter Kulgan the Agile, who seems angry at you for some reason. He battles against you. Beat him, he gets pissed, threatens to kill you the next time he sees you, then leaves.

ES 7 - You move this tombstone to reveal a rope ladder going down.

ES 8 - *This can only be done once you help Orphe & Aoba on B6*. You meet Aoba looking for Orphe.

ES 9 - *This can only be done once you help Orphe & Aoba on B6*. You meet Orphe & Aoba who talk to you about what's going on. They offer to help you & become Registered Members.

Back to Top
The text in this document is licensed under the Creative Commons Attribution-NonCommercial-ShareAlike License. Anyone is free to use, copy, modify and re-distribute this work as long as they agree to the terms in the license.