Site Navigation

•RPGClassics Main
•Contact Maintainer

Shrine Navigation

•Main Page
•ATACs
•Attacks
•Backstory
•Character Profiles
•Dormant Abilities
•Downloads
•Equipment
•How To Play
•Interviews
•Mission Chart
•Quotes and Script
•Saving Properly
•Shopping Lists
•Support Abilities
•Terrain
•Thanks
•Walkthrough
•100% Guide

The Flow of the Game

Today's lesson deals with the flow of the game. Basically, how the game plays out. Vanguard Bandits is much different from most RPGs; rather than having a huge world map and a sense of exploration, VB jumps you from story scene, to prep stage, to battle. And so forth. Regardless of that, it's a very very fun game that's easy to pick up and play, so don't let that deter you.

Game? What are you talking about? Can't you at least give the fourth wall some stability?

Silence, Hibernian! Or I'll send you to Siberia!

Err... I'm from Hibernia.. cold doesn't affect me.

Yes, uh.. right. I knew that. Anyway, enough idle banter. Here's what you need to know.

Battle - Story - Preparation

That there is the flow of the game. Rather than wandering a World Map or talking to people to progress the plot, that's all done automatically. You'll start each mission fighting a battle, and after the battle, the story scene will play. After that, you'll jump to the Preparation screen to set up equipment, interview, and generally get ready for the next mission. This section of How To Play will give you a brief overview of each section. Read up on this section to get a feel of things, and then move on to the more detailed sections.

We'll begin with an overlook of the Story scenes.

Story Scenes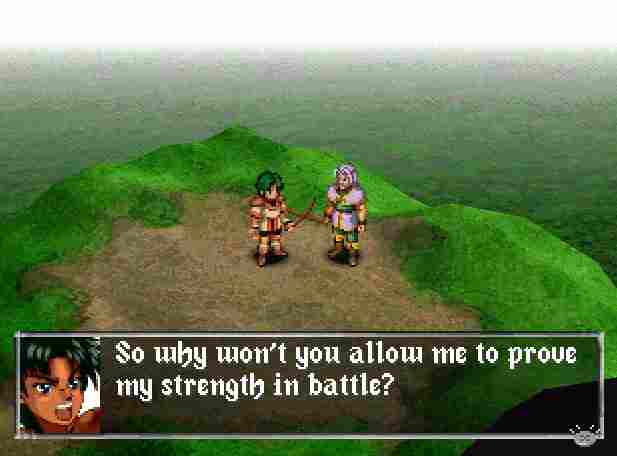 Story Scenes are where the plot reveals itself, in well-written, occasionally hillarious scenes. Simply read through the text, pressing X to keep the text moving (you've played an RPG, right?), until the Before Mission (Prep) screen pops up. Every chapter will not only have our team discussing pressing matters and the current situation, but they will also engage in some humourous conversation while travelling the continental map to the next destination.
Occasionally, you'll be pressed to make decisions during story sequences. These choices can have effects on how the rest of the game plays out, either from small things like a morale boost, or big things like an entirely different route through the game. For a list of all decision points, check the Mission Chart section of the shrine.
All good? Now, let's move on to the Before Mission or Preparation screen; it's more complicated.

Before Missions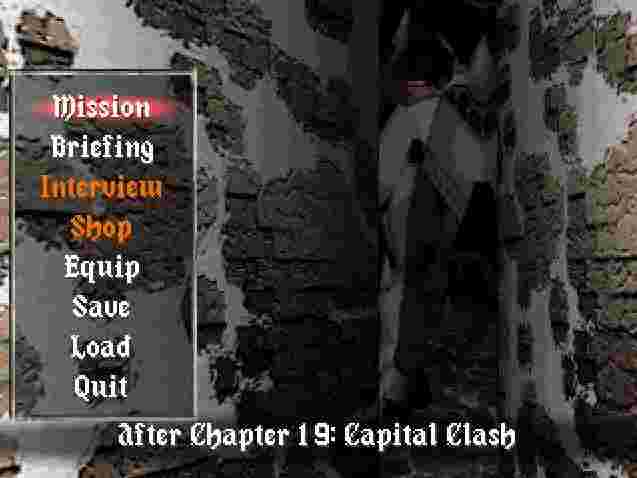 This screen appears right before a battle. Basically, it's your chance to prep yourself for the next mission. There's a lot here to familiarize yourself with, so let's take it from the top. You'll learn the nuances of each of these options later on, so just get to know them for now.
Mission Begins the next mission, jumping you straight into battle. Do not choose this until you are good and ready.
Briefing Gives you a view of the battlefield, along with your team's positions, the bad guys positions, and possibly the mission objective.
Interview Speak with your team members to boost morale. Due to the limited time before a battle, you may only speak 3 times, so use them wisely. Morale will be explained later.
Shop Purchase new equipment. Open only on a select few chapters.
Equip Allows you to re-equip your characters, or switch their ATAC.
Save Save your game.
Load Load a game.
Quit Returns to the title screen without saving.
Now, we'll take a look at the battle screen and all the options available during battle.

Battle Screen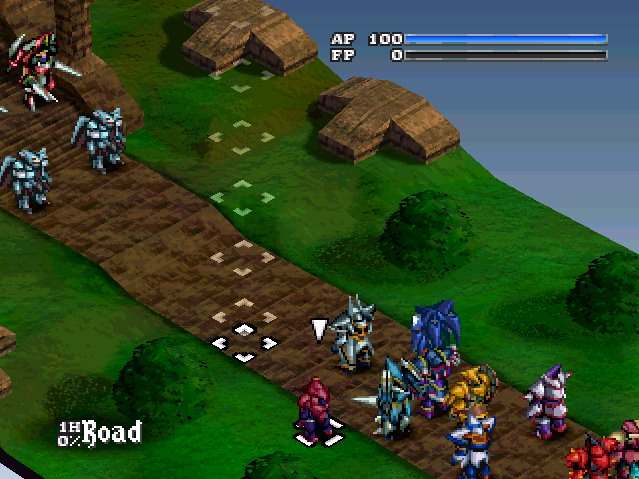 This is where most of the game takes place; out on the front lines! You get an isometric view of the battlefield (a la Final Fantasy Tactics). The battlefield is made up of squares, each representing one space. Easy enough, right?
During CPU controlled character's turns, there isn't much you can do. However, when its your turn, there are a multitude of options and information you can view. For example, move the cursor over a character and press Circle to get some statistical information on them, and press X to see their move range. Press X one more time from there for even more statistical information.
On your turn, press Start to bring up an option screen with the following selections.
Units View information on all the units on the battlefield. You can compare their names, HP, Level, Range and Speed from there. Pressing X while highlighting a unit will scroll the screen to find that unit on the battlefield.
Map Switches to a bird's eye view of the entire map.
Turns Brings up a small table showing the next 32 turns in battle, and which unit will get their turn in each. Enemies are written in red, your units in blue.
Tactics Gives you the objective of the mission (which is usually Annihilate the Enemy).
System Toggle various options. Each will be explained in the table below.
- Cursor: Determines how the cursor moves. Choose from Right, Left or Center. The default is Right.

- V. Scroll: Toggles Vertical Scroll between ON, OFF, or AUTO. When set to ON, the game will always scroll the screen up or down when the altitude of the cursor changes. With OFF, it will never, and with Auto, it will keep it at more of a happy medium.

- Map Zoom: Allows you to zoom out the perspective of the Battle Screen. At default, it's set to 100%, but you can change it to 80% zoom or 60% zoom.

- Status Box: Turns the status box On or Off. The Status Box is a little circle (yes, a CIRCLE) that appears over a unit's head on their turn. It displays their name, current HP and max HP.

- Msg. Speed: Determines how fast text messages are displayed on the screen (battles are filled with small story scenes, and that's where this option comes in).

- Sound: Choose from Stereo or Mono. I already used up the joke.

- Battle Anim.: Turn the Battle Animation ON or OFF. With animation ON, whenever an attack is executed, it will switch to a separate screen and you will watch the ATAC launch the selected attacks at each other. However, this may get on your nerves after a while, so set it to OFF to just see the HP meters go down.

- Vibration: Toggles Vibration ON or Off. To shake or not to shake.


Save Save your in-battle progress. You can jump to this screen instantly by PRESSING the Right Analog Stick (R3 Button).

There are more menus and submenus that you will work with on the Battle screen, but that will wait until another tutorial. Next class, we'll learn about how the game plays out, and the difference between Chapters and Missions.

"We'll" learn? You're the teacher; you don't need to learn anything! *gets up and leaves*

That's it! Detention for... ah, crap. He's gone.
Chapters/Missions:
- Multiple Paths
Story:
- Storyline Decisions
Between Missions (Prep):
- Interviewing

- Shopping

- Equipping

- Switching ATAC
Battle
- Battling Basics

- The Battlefield

- Sizing Up the Situation

- How to Fight

- Attacking

- Support Abilities (Magic)

- Dormant Abilities

- Mission Objectives

- When Attacked..

- Level Up!

- Assist

- Terrain and Movement

- Morale

- CPU Controlled Allies

- Battle Strategy (also, exploiting holes in the enemy AI)

- If you die...

Keys to Success (or, how to win at Vanguard Bandits) PLEASE READ!


(c)2006 RPGClassics.com. All materials are copyrighted by their respective authors. All games mentioned in this site are copyrighted by their respective producers and publishers. No infringement on any existing copyright is intended. All rights reserved.