Site Navigation

•RPGClassics Main
•Contact Maintainer

Shrine Navigation

•Main Page
•ATACs
•Attacks
•Backstory
•Character Profiles
•Dormant Abilities
•Downloads
•Equipment
•How To Play
•Interviews
•Mission Chart
•Quotes and Script
•Saving Properly
•Shopping Lists
•Support Abilities
•Terrain
•Thanks
•Walkthrough
•100% Guide

Story

Today's lesson expands on the story scenes of Vanguard Bandits. It's a fairly short lesson, so there will be early dismissal...
Story Scenes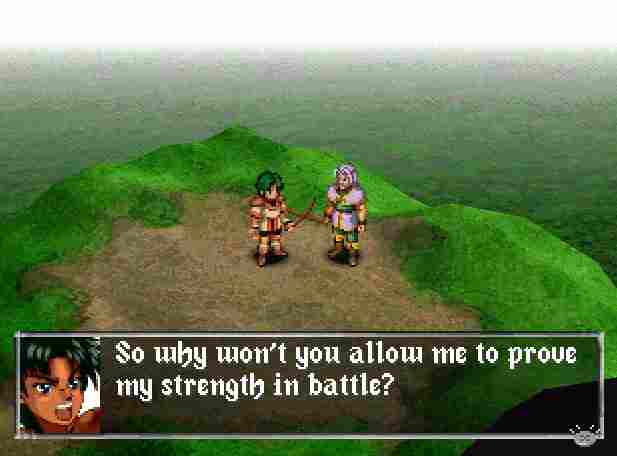 Story Scenes are where the plot reveals itself, in well-written, occasionally hillarious scenes. Simply read through the text, pressing X to keep the text moving (you've played an RPG, right?), until the Before Mission (Prep) screen pops up. Every chapter will not only have our team discussing pressing matters and the current situation, but they will also engage in some humourous conversation while travelling the continental map to the next destination.
Actually reading the text and paying attention to what is said can prepare you for what's ahead. The game often cuts to story scenes that are "inside" the Empire, where you will catch glimpses of conversations between the bad guys. Knowing what troops are advancing where, or knowing what ATAC is being field-tested is vital information. If you know that Faulkner will be leading a team of men to Maqui Bridge to exterminate a threat, then you can be well prepared for it!
Storyline Decisions
Occasionally, you'll be pressed to make decisions during story sequences. These choices can have effects on how the rest of the game plays out, either from small things like a morale boost, or big things like an entirely different route through the game. For a list of all decision points, check the Mission Chart section of the shrine.

And that's all for today... wait a minute.. no one even showed up for class today. Ah well, 'least it was quiet..... *sits silently* ...... . ...... ............. Oh, who am I kidding? I miss those grunts.
Between Missions (Prep):
- Interviewing

- Shopping

- Equipping

- Switching ATAC
Battle
- Battling Basics

- The Battlefield

- Sizing Up the Situation

- How to Fight

- Attacking

- Support Abilities (Magic)

- Dormant Abilities

- Mission Objectives

- When Attacked..

- Level Up!

- Assist

- Terrain and Movement

- Morale

- CPU Controlled Allies

- Battle Strategy (also, exploiting holes in the enemy AI)

- If you die...

Keys to Success (or, how to win at Vanguard Bandits) PLEASE READ!


(c)2006 RPGClassics.com. All materials are copyrighted by their respective authors. All games mentioned in this site are copyrighted by their respective producers and publishers. No infringement on any existing copyright is intended. All rights reserved.