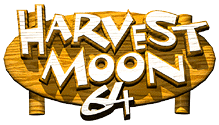 Harvest Moon 64 is a loveable farming RPG developed by Natsume. It was preceeded by Harvest Moon for the SNES and for the Game Boy.
Created and Maintained by:
Harvest Moon 64 © 1999

Natsume
Update
Jan. 03, 2002: Added a little bit of Character info. Also added more information on the Blue Mist Flower to the Photo and Moon Mountain Pages.