Site Navigation

•RPGClassics Main
•Contact Ryuuhi

Shrine Navigation

•Home
•Abilities
•Accessories
•Basics
•Battling
•Bosses
•Characters
•Cheats
•Deathblows
•Enemies
•Equipment
•Experience Chart
•Gears
•Gear Equipment
•Items
•Maps
•Secrets
•Shopping List
•Soundtrack
•Thanks
•Tidbits
•Updates
•Walkthrough
•Weapons
•What's Left

Black Moon Forest
Items found: 2 Aquasols, Survival Tent, Arcane Rod
First, head southwest until you reach a crossroad, then head to the east path. Jump over the 2 rocks to reach the trunk. The jump down to another trunk on the southwest to get an Aquasol. Now go southwest yet again, jump the roots and reach a Memory Cube. Continue on the ledge and after killing another group of Hobgobs, jump back to the ledge to evade the big boulder. Follow the path where the boulder was and you'll watch a small FMV.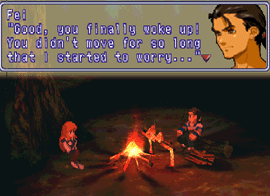 Fight the 2 Forest Elfs and after another scene, proceed to the next area. Go South until you reach a sign, then head Southwest and jump to get an Aquasol, then go back to the sign. From there, head East, then climb the ledge to reach another sign. Head South and before jumping to the Memory Cube, turn West and jump down to get an Arcane Rod. You'll have to go back all the way and this time jump to the Memory Cube and get a Survival Tent. Follow the bridge and youll fight 2 Forest Elfs and 2 Dive Bombers. After watching more Anime and more scenes, follow after Elly to meet your First Boss, Rankar.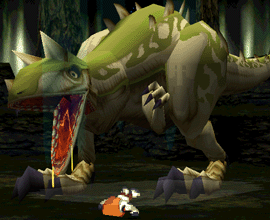 The first round is impossible, just wait until you get some help. After climbing on a gear, though, it's just a matter of patience...keep hitting it until it falls. After parting ways with Elly, Citan joins the party and you can head South to The City of Dazil.


(c)2006 RPGClassics.com. All materials are copyrighted by their respective authors. All games mentioned in this site are copyrighted by their respective producers and publishers. No infringement on any existing copyright is intended. All rights reserved.