Site Navigation

•RPGClassics Main
•Contact Ryuuhi

Shrine Navigation

•Home
•Abilities
•Accessories
•Basics
•Battling
•Bosses
•Characters
•Cheats
•Deathblows
•Enemies
•Equipment
•Experience Chart
•Gears
•Gear Equipment
•Items
•Maps
•Secrets
•Shopping List
•Soundtrack
•Thanks
•Tidbits
•Updates
•Walkthrough
•Weapons
•What's Left

Second Gate - Babel Tower
Items found: None (Except for those dropped by bosses)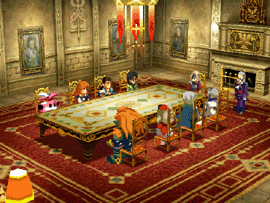 Before heading to Babel Tower, revisit Bledavik for new dialogues and a funny play (If you helped the kids giving them money..by the way, one of them will give you 100G back). Be sure to upgrade your Gears and equip Elly with a Flare RodG and Fei (or Elly) with an Ether Veiler and Ether Ars (And don't use Chu-Chu in the other group, have Seibzehn and Andvari guarding the place). Head to the top of the Babel Tower with the Yggdrasil and enter the right door. The party will switch to Billy, so choose Bart and Maria in your party. You'll switch back to Fei, so head East, South, jump down into the pit, then get outside your gears and enter the small door to the North. After a scene, Dominia and Kelvena will attack you.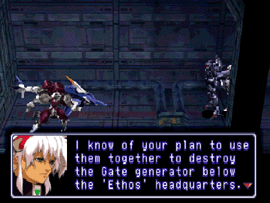 Have Vierge attack (equipped with a Flare RodG) Marinebasher or cast Thermo Largo (with an Ether Doubler equipped), then group on Bladegash to finish the battle. You'll switch to Ft. Jasper to fight the other 2 elements. Just defeat Skyghene first with your best attacks. Then you'll switch back to Babel Tower and fight Bladegash and Marinebasher (again...). Repeat the previous strategy (Just watch out for fuel and HP), then use the same strategy against Skyghene and Grandgrowl. Billy will hit the gate on the second try and after some scenes, dock at the Thames and talk to the Captain to find a way to the Third Gate.


(c)2006 RPGClassics.com. All materials are copyrighted by their respective authors. All games mentioned in this site are copyrighted by their respective producers and publishers. No infringement on any existing copyright is intended. All rights reserved.