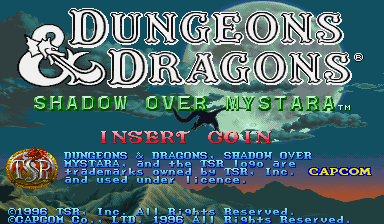 To all bold adventurers,
past, present and future...
In a world of mystery and magic,
A world of...
Dungeons and Dragons!
Greetings, and welcome to the Dungeons and Dragons: Shadow over Mystara shrine! Shrine contains just about everything there is to know about DD:SOM. Just mail the maintainer if you have any questions regarding this little gem.
- Jan 24th 2007: Everything rehauled and checked. Walkthrough still missing a few pages, one boss picture too.
- Jan 25th 2007: Walkthrough complete, boss tables made smarter.. Shrine submitted for scrutiny.
- Feb 7th 2007: Added traps section, clarified lots things, removed annoying avatars from tops of pages, renamed secrets and made some of the language a lot smarter.
Created/Maintained by

Mabatsekker
Dungeons & Dragons: Shadows over Mystara © 1996
Capcom


(c)2006 RPGClassics.com. All materials are copyrighted by their respective authors. All games mentioned in this site are copyrighted by their respective producers and publishers. No infringement on any existing copyright is intended. All rights reserved.