Sabin Figaro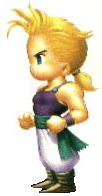 Starting Stats

| | |
| --- | --- |
| Vigor | 47 |
| Stamina | 39 |
| Speed | 37 |
| Magic | 28 |
| Attack | 36 |
| Defence | 53 |
| Evade | 12% |
| Magic Defence | 21 |
| Magic Evade | 4% |
Skill:
Blitz - Inflicts much pain on the enemy depending on the input you give.
Objective Overview:
Sabin is bar-none the most powerful physical character in the game. No one else even comes close. His starting Vigor of 47 is insane. Give him a hyper wrist and he will pound hard on enemies. His blitzes are also useful through the entire game. Bum Rush, Sabin's ultimate blitz, is the most powerful physical attack in the game, easily dealing 5000+ damage to an enemy in one blow. Despite his rogueish looks and attitude, he is still pretty gently at heart though. He wants to change the world to a better place, but often gets lost in his quest for strength. A valuable member to any team.
Zeppelin's Ultra-Biased, Unfair, Opinionated Overview:
Zeppelin's Rank: 2

EVERYBODY uses Sabin. There is no mystery here. This guy is ridiculously powerful at every single point in the game. His blitzes will shred enemies apart even at the end of the game. Unlike Edgar's Tools, Sabin's final blitzes are very useful indeed. Not surprisingly, his magic is very weak, but it just doesn't matter. This guy does not need any magic whatsoever. Give him some cure magic or whatever just in case, but Sabin's true strength lies in his bulging muscles. Make sure to concentrate on raising his Vigor and Speed with the Espers while you're level gaining. If all the jocks in school were like him, the world would be a better place. Be warned though - there are a few scenes where this guy will act like a baby. I guess everyone has their faults, huh?