Celes Chere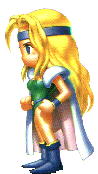 Starting Stats

| | |
| --- | --- |
| Vigor | 34 |
| Stamina | 31 |
| Speed | 34 |
| Magic | 36 |
| Attack | 26 |
| Defence | 44 |
| Evade | 7% |
| Magic Defence | 31 |
| Magic Evade | 9% |
Skill:
Runic - Absorb a magic spell, gaining an amount of MP equal to the cost of the spell.
Objective Overview:
Celes is a very strong character. She can equip all the most powerful armor and magic, and she is one of the best spell casters in the game. Her importance to the group will only increase as magic becomes more important. Her runic spell is also useful when she is low on MP or when you are fighting against an enemy that uses very strong magic attacks. The runic ability can almost completely immobilze a strong spell caster. Though Celes worked for the empire, she is not an evil person by any means, though she can often come off as cold and impersonal. Throughout the game, however, she becomes much more in tune with her emotions and becomes more human. Wise players use Celes often.
Zeppelin's Ultra-Biased, Unfair, Opinionated Overview:
Zeppelin's Rank: 3

I love this chick. She's such a badass! Not only that, but her runic ability is bar-none the most under-appreciated ability in the game. I can't tell you how many times I've had people whining to me "Wahhhhhh zeppelin, so-and-so is using this huge magic spell and I can't defend with it and I die and I hate my life and wahhhhhh wahhhhhh". I'm always like, "Have you tried using Runic to absorb the spell?" and they're like "No, what's runic?" and I then go on a murderous rampage slaughtering cute kittens left and right. Runic can totally turn the tide in a tough battle. Celes is usually my character of choice to give the ragnarok/illumina too also. With her high MP and runic (which refills her MP), she has an almost unlimited number of critical attacks with this weapon. Supah cool! Celes rocks, and if you think she sucks then I think YOU suck.