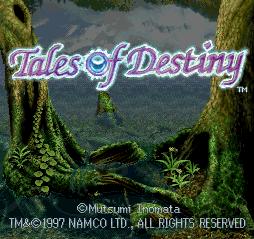 Welcome to the Tales Of Destiny Shrine! You can find all the info you need about this game, an early but welcome addition to the PlayStation library. ToD is the sequel to Tales of Phantasia, and spawned a sequel, Tales of Eternity.
Updates
December 26, 2001: Jude Ian sent in solutions to two warehouses in Frostheim that I didn't have before.
June 5, 2001: Su Yi has supplied the level Leon learns Demon Attack at (41).
March 25, 2001: Shrine created.
---
Created and Maintained by:
Cidolfas
Tales of Destiny © 1997

Namco