Site Navigation

•RPGClassics Main
•Contact Maintainer

Shrine Navigation

•Main
•Characters
•Downloads
•Enemies
•Equipment
•Experience Chart
•Hacking List
•Items
•Magic
•Manual
•Shopping List
•Secrets
•Walkthrough
•Weapons

Old People are Old
| | |
| --- | --- |
| | The Old Geezer won't fork over the Mark of Winga because the poor things only struck oil, not water... He'll then hatch another brilliant idea, though. He'll give you a pick-axe and tell you to dig a canal from the oasis north of town to the town. Grudgingly accept his offer, and heal up, and exit north of town. |
11th Battle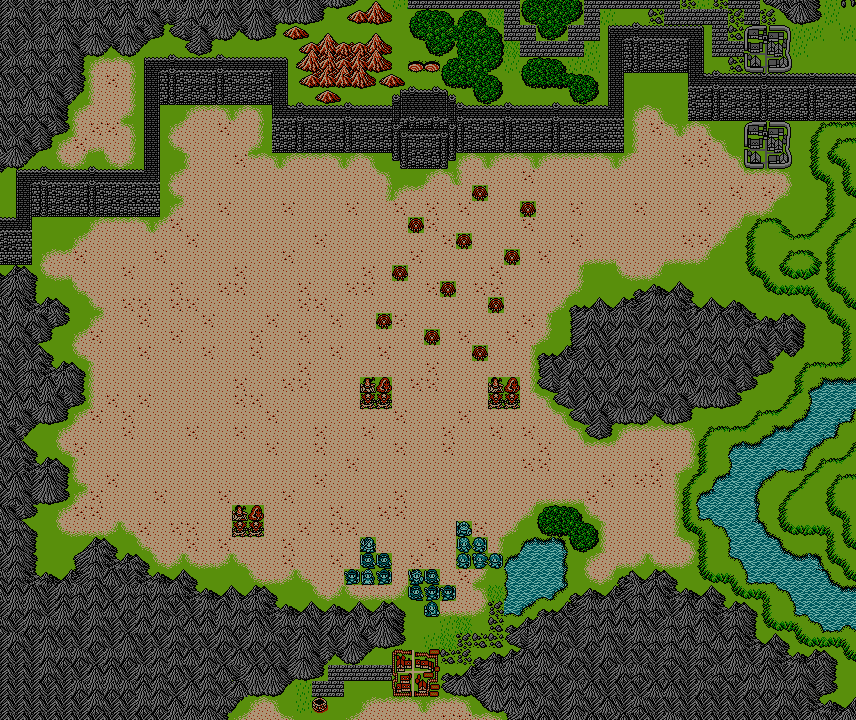 Enemies
Skeleton x6
Falconer x3
Python x3
Crawler x11
PICTURE
NAME
HP
MP
AP
DP
EXP
G

COMMENTS

Skeleton
49
0
27
16
12
40

-

Falconer
53
0
25
15
47
70

Can Attack Diagonally from up to 6 spaces away

Python
59
0
41
20
20
50

-

Crawler
47
0
27
39
37
82

Can roll 7 spaces in a single direction, damaging all characters it touches.
Equip the Pickaxe on one of your characters and start digging right away. To dig, move the character with the Pickaxe one space away from the gravelly path from the oasis to the town. The spaces with the gravel can be targetted with the "fight" command, just like an enemy. Each time one of the spaces is attacked, that section of the canal is dug.
While the digger is digging, the rest of your troops should just hang out and attack the enemies that approach you. That's all there is to the battle. When the canal is finished, just head back to town.
Intermission
| | |
| --- | --- |
| | Talk to the doyen one more time, and he'll finally give you the Mark of Winga. 'Bout damn time. Heal up and exit north of the town again. |
11th Battle (Part 2)
The first thing you should do in this battle is use the Mark of Winga. This will reveal where their base is. All you have to do in this battle is have your Hero catch up to the base, so have the Hero's army chase after the base while the other two armies are kicking ass. The battle ends as soon as the Hero makes it to the base.
Previous Chapter - Walkthrough Home - Next Chapter


(c)2006 RPGClassics.com. All materials are copyrighted by their respective authors. All games mentioned in this site are copyrighted by their respective producers and publishers. No infringement on any existing copyright is intended. All rights reserved.