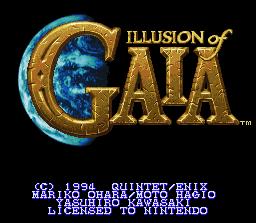 Welcome to the Illusion Of Gaia Shrine! You can find all the info you need about this SNES game. It's actually the second in a trilogy, the first being Soul Blazer and the third being Terranigma. It was also released in French as "Illusion of Time". It's an unusually linear game, so most of the normal RPG sections won't apply here. Most of the information you need is in the Walkthrough section.
Updates
August 14, 2000: Shrine created.
August 15, 2000: Added the China's Great Wall section of the walkthrough (part 10) and the final Red Jewel picture.
June 24, 2001: Added item pictures and alphabetized the Items section.
---
Maintained by: Sephiroth Katana
Originally Created by:
Cidolfas
Illusion of Gaia © 1994

Quintet/Enix