Site Navigation

•RPGClassics Main
•Contact Maintainer

Shrine Navigation

•Home
•Armor
•Characters
•Downloads
•Endings
•Enemies
•Enemy Attacks
•Hacking List
•Items
•Places
•Sealed Chests
•Secrets
•Shopping List
•Status Ailments
•Tabs
•Techs
•Thanks
•Updates
•Walkthrough
•Weapons

Marle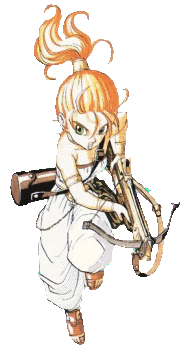 Initial Stats
| | |
| --- | --- |
| HP | 65 |
| MP | 12 |
| POWER | 2 |
| STAMINA | 6 |
| SPEED | 8 |
| MAGIC | 8 |
| HIT | 8 |
| EVADE | 8 |
| MAGIC DEFENSE | 8 |
| LEVEL | 1 |
| INITIAL EQUIPMENT | Bronze Bow, Hide Tunic, Hide Cap, Ribbon |
Marle is actually Princess Nadia of the Guardia Kingdom. Strong-willed and independent, and fed up with royal life, she decides to run away from her castle. At the Millenium Fair, she meets up with Crono, and their meeting would eventually change the course of history...
It probably comes to no surprise that Marle, with her crossbow, is a weak character physically. Her main role is definately that of a healer, although she also learns ice magic.


(c)2006 RPGClassics.com. All materials are copyrighted by their respective authors. All games mentioned in this site are copyrighted by their respective producers and publishers. No infringement on any existing copyright is intended. All rights reserved.