Site Navigation

•RPGClassics Main
•Contact Maintainer

Shrine Navigation

•Home
•Armor
•Characters
•Downloads
•Endings
•Enemies
•Enemy Attacks
•Hacking List
•Items
•Places
•Sealed Chests
•Secrets
•Shopping List
•Status Ailments
•Tabs
•Techs
•Thanks
•Updates
•Walkthrough
•Weapons

Magus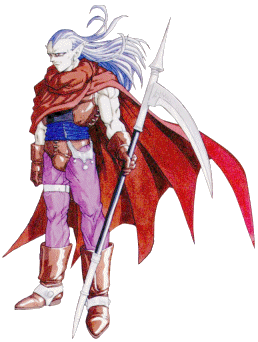 Initial Stats
| | |
| --- | --- |
| HP | 650 |
| MP | 84 |
| POWER | 51 |
| STAMINA | 43 |
| SPEED | 12 |
| MAGIC | 50 |
| HIT | 20 |
| EVADE | 33 |
| MAGIC DEFENSE | 72 |
| LEVEL | 37 |
| INITIAL EQUIPMENT | Dark Scythe, Raven Armor, Doom Helm, Amulet |
A mysterious wizard with a hazy origin, Magus is the leader of the Mystics who are waging war with Guardia in 600 AD. He is the one responsible for killing Cyrus and changing Frog into a frog, but his motives are unknown...
Magus, who wields scythes, is physically the weakest male in the game, but his powerful shadow magic more than makes up for that. His greatest flaw is his un-willingness to team up with his comrades for Double and Triple Techs. His magic makes him a valuable member of your party anyway.


(c)2006 RPGClassics.com. All materials are copyrighted by their respective authors. All games mentioned in this site are copyrighted by their respective producers and publishers. No infringement on any existing copyright is intended. All rights reserved.