Site Navigation

•RPGClassics Main
•Contact Maintainer

Shrine Navigation

•Home
•Armor
•Characters
•Downloads
•Endings
•Enemies
•Enemy Attacks
•Hacking List
•Items
•Places
•Sealed Chests
•Secrets
•Shopping List
•Status Ailments
•Tabs
•Techs
•Thanks
•Updates
•Walkthrough
•Weapons

Crono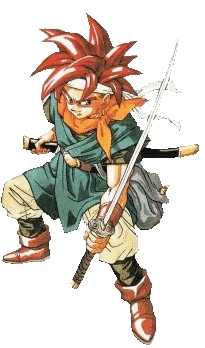 Initial Stats
| | |
| --- | --- |
| HP | 70 |
| MP | 8 |
| POWER | 5 |
| STAMINA | 8 |
| SPEED | 12 |
| MAGIC | 5 |
| HIT | 8 |
| EVADE | 8 |
| MAGIC DEFENSE | 2 |
| LEVEL | 1 |
| INITIAL EQUIPMENT | Wood Sword, Hide Tunic, Hide Cap, Bandanna |
There's not much to say about Crono's personality. He's a typical teenager growing up in the peaceful village of Guardia in 1,000 AD. And through some unusual happenstance, he ends up saving the world from certain destruction. Oh! And he never speaks...
Being the main character, it should come to no surprise that Crono is the most well-rounded character. With his katanas, he's very strong physically, and he learns powerful lightning magic. He's without a doubt the most useful character in the game.


(c)2006 RPGClassics.com. All materials are copyrighted by their respective authors. All games mentioned in this site are copyrighted by their respective producers and publishers. No infringement on any existing copyright is intended. All rights reserved.