E2 Walkthrough
Corak's Notes on E2:
The swampy isle has become a place of exile where enemies of the more civilized western lands are sent to spend the rest of their days. Shadow Rogues that once roamed freely through Evil Eye Forest, robbing travelers on the road from Fountain Head to Wildabar, were exiled to the small island of the Deathbog, but now they roam freely through the entire swampland.
Monsters in the area: Death Locusts, Shadow Rogues.
Map of E2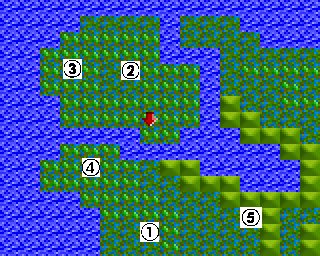 Swamp Town.

Shadow Rogue Lair. Destroy it to stop Shadow Rogues from re-appearing in the area. You'll get 1000 gold and 10 random items for doing this. In addition, all party members will gain 50000 experience.

Death Locust Lair. Unlike most monster lairs, this one is not in plan sight; you'll just notice something buried in this location. If you dig it up, you will find the lair. Destroy it to stop Death Locusts from re-appearing in the area. All party members will gain 100000 experience for doing this.

Princess' Trueberry's humble abode. If approached, she will tell you she been cursed to remain in this hut, and that only the power of love can free her.

Ziltar the Wise. This guy must be related to the two wise men in B2. He tells you that the Vampire King and his army of undead lurk nearby.
Welcome to the swamp! Most people come here after visiting Swamp Town via captain Squib's tour and exiting through the main gate. Sorry, the tour was a one-way trip... the only way back now is either through the mirror portal in Swamp Town, a Town Portal, Nature's Gate or Lloyd's Beacon spell, or by way of a long journey across the sea using Walk on Water.
If you had major trouble with the Ghouls in Swamp Town, exploring this area could be a bit dangerous, but otherwise you should be okay. Neither the Shadow Rogues nor the Death Locusts are very hard to defeat. However, the former can poison you, and the latter cause disease, so as long as you're careful not to let either of those conditions get to their terminal stages, you should be fine. Oh, and the Death Locusts can swim, so don't be surprised if some of them come after you across the water.
First of all, pay a visit to Princess Trueberry, to add her quest to your quest log. If you can't figure out how to solve it right now, you can always come back later, or not at all, since this sidequest is completely optional. It's also tied in with the Icarus quest you got way back in A2 - you won't be able to finish that one until you finish Princess Trueberry's quest. If you're desperate, the procedure on how to solve these quests is outlined in the Puzzle Spoilers section.
Next, head on over to the island in the northwest of this area, to destroy the Rogue lair and the hidden Death Locust lair, to stop these pests from bothering you again should you revisit this area. There's a second hut on this island, with some fabulous treasure inside. DON'T take it though, it's a trap - whoever touches the treasure will die instantly.
All that's left to do here now is mop up the last of the opposition in the area, and grab a few goodies along the way. From where the Shadow Rogue lair was, head due east and you'll eventually notice something buried in the bog. Dig up to uncover 20000 gold and 4 random items. From this exact spot, head due south, and you'll reach a mountainous area, where you will find another 50000 gold and 5 random items.
That's about all of value in this area. Note that this is one of the more "safe" areas of the swamp; the deeper areas are far more treacherous. If you had trouble here, I recommend against venturing further east into the swamp for now.
Adjacent areas:


(c)2006 RPGClassics.com. All materials are copyrighted by their respective authors. All games mentioned in this site are copyrighted by their respective producers and publishers. No infringement on any existing copyright is intended. All rights reserved.