Site Navigation

•RPGClassics Main
•Contact Maintainer

Shrine Navigation

•Main
•Characters
•Downloads
•Enemies
•Equipment
•Experience Chart
•Hacking List
•Items
•Magic
•Manual
•Shopping List
•Secrets
•Walkthrough
•Weapons

My Evil Twins...
| | |
| --- | --- |
| | You've finally made it to Lambruvir! Now that you're here, the first thing you'll want to do is cast Strim and go to another town, like Tungal. Here, heal everyone up, and more importantly, make sure you have about 5 or 6 or so Herb2s. When you're done, cast Strim again and return to Lambruvir. |
| Looks like Orlof and Hans found you... Yay! | |
| | Head north and some old dude will start talking to you about some trial you've got to do to get some mystical armor. Well, bring it on, I say! |
25th Battle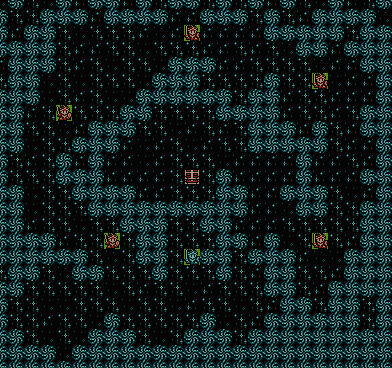 Enemies
??? x5
PICTURE
NAME
HP
MP
AP
DP
EXP
G

COMMENTS

???
Varies
Varies
Varies
Varies
500
0

Has same stats as the Hero. Casts Horma.
In this battle, you'll face 5 exact clones of yourself. They have the same stats and abilities as the Hero does. This battle is very easy if you stocked up on Herb2s. All you'll have to do is start pounding away on a doppelganger, and when its next hit will kill you, use an Herb2 (if you get the first hit in, you probably can kill it off before you need to use an Herb2). It should recover enough HP for you to finish the doppelganger off before it kills you. When it's dead, stay put and cast Horma until your HP is completely refilled, then move onto the next one. Keep doing this until all five are defeated.
| | |
| --- | --- |
| | After the battle, go ahead and open the treasure chest and get the Solar Armor. Hurray. |
| OMIGOD! | |
| | After all that, go ahead and equip the Solar Armor. Talk to Rolan if you're ready to enter the tower. Once you enter, you can never leave, so take care of any unfinished business before you go in. |
Previous Chapter - Walkthrough Home - Next Chapter


(c)2006 RPGClassics.com. All materials are copyrighted by their respective authors. All games mentioned in this site are copyrighted by their respective producers and publishers. No infringement on any existing copyright is intended. All rights reserved.