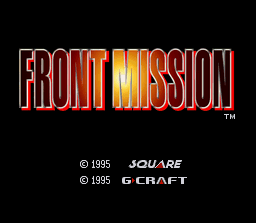 Welcome to the Front Mission Shrine... You'll find here everything for Front Mission addicts...Front Mission is a tactical-rpg game that had many sequels, including Front Mission Gun Hazard (SNES), Front Mission 2 (PSX), Front Mission 3 (PSX), Front Mission Alternative (PSX) and a re-release of Front Mission (Wonderswan).
---
For those of you who don't have the original cartridge or don't speak Japanese, you can use emulators and a translation patch. The links for those are in the Emulation page.
Created and Maintained by:
Ryuuhi
Front Mission © 1995

SquareSoft


(c)2006 RPGClassics.com. All materials are copyrighted by their respective authors. All games mentioned in this site are copyrighted by their respective producers and publishers. No infringement on any existing copyright is intended. All rights reserved.