Site Navigation

•RPGClassics Main
•Contact Maintainer

Shrine Navigation

•Shrine Main Page
•Ancient Cave
•Armor
•Characters
•General Information
•I.P.Skills
•Items
•Magic
•Monsters
•Prologue
•Walkthrough
•Weapons
•World Map
Ancient Cave
(Many thanks to Black Paladin and Nat King who gave me lots of info about this part.)
If you have played Lufia 2, you will know this cave. This time it's on Gulduck Island, between Lidal and Fante Continent. It has 100 floors, but to go below B50, you need the Glass Ruby which you can find in Broffo Cave, B10.
The difficult thing is that you must leave all your items, magic and skills at the entrance, and your level is reduced to 1. You must survive with the goods you find in the cave. The only exception are the treasures that you find in the blue chests: you can keep them and take them with you when you visit the cave again. There are also some story-related items you can take with you, like the Gades and Daos items, the Dragon Scale, the Cat Ring and the Bunny items.
Magic spells can be found as scrolls like this:


When you walk over them, everybody in your party who is able to learn the spell will get it.
In the Ancient Cave there are only stairs leading down - if you want to exit, you need a Providence item which you can find around B20. Sometimes you'll meet a merchant. His inventory will change depending from how much money you have.
You'll find all kinds of monsters here, but Mimics and Co. are typical for the Ancient Cave. They look like normal red treasure chests (the RareMimics like blue chests). (See Monsters - Ancient Cave.)
If you reach B50 before you've found the Glass Ruby, a waitress will give you the God Helm (and a Providence, if you haven't got one).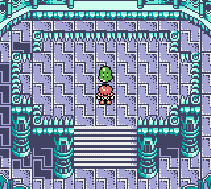 If you manage to reach B100, you'll find a Green Jelly who grants you one of three wishes:
"Best Weapons"
"Make Ancient Cave 200L"
"Nothing"
The most rewarding wish is "Best Weapons", which lets you take 4 of the 12 weapons in Parathea Shrine, 4F. (If you want to get all weapons, you must make the wish 3 times.) If you've already got all weapons, the wish will change to "Fight me!" If you manage to beat the Master Jelly in three rounds, you get the option to start at B100 the next time you visit the Ancient Cave. If not, it will escape from battle and throw you out of the cave :-(

At B200 you must fight Iris (or Iria), an extremely hard Boss. If you defeat her, you'll get the Ancient Text D-End Flash, which takes away 1/2 of the enemies' HP, and a Rainbow Amulet, which prevents monsters from appearing.

If you ask for nothing and leave the cave, all your characters will gain 5 levels after the next battle.

Blue Chest Items

(I've only mentioned items that can be found uniquely in the Ancient Cave. There are others, like the Bunny items. The list is not complete.)

Weapons
Name
Effect
Characters
Earth Blade
DFP +60, SPD +60, CLT +5
chances SPD and DFP into ATP
Wa, Dei, Ra, Dec
Sky Blade
SPD +120, CLT +5
changes SPD into ATP
Wa, Dei, Ra, Dec
Old Sword
ATP +400, CLT +5
Wa, Dei, Ra, Dec
First Blade
ATP +360, CLT +5
attack your friends
Wa, Ra, Dec
Alumina Blade
ATP +480, CLT +5
Wa, Ra, Dec
Iris Blade
ATP +500, CLT +5
Se, Me, Ru, Mi
Charge Staff
ATP +60, MAP +40, CLT +2
raises charge
Ai, Me
Diamond Ball
DFP +100, MAP +100, CLT +5
Se
Alumina Fist
ATP +430, SPD +30, CLT +5
Ai
Alumina Card
ATP +200, CLT +5
2 attacks
Ru
Chill Card
ATP +140, CLT +5
use Ice Storm
Ru
Burn Card
ATP +110, CLT +5
use Fire Dragon
Ru
Holy Card
ATP +160, CLT +5
eff. against nocturnal enemies
Ru
Bloody Manicure
HP +200, ATP +427, CLT +8
Ru
String Sting
ATP +250, CLT +10
Yu, Is
Custom 65
ATP +465, CLT +10
Yu,Is
Armor and Accessories
Name
Effect
Characters
Recovery Armor
DFP +210
stops paralysis, confusion
Wa, Ra
Pearl Armor
DFP +230, REG +44
Wa
Light Armor
DFP +240, REG +62
eff. against nocturnal enemies
Wa
Metal Mail
DFP +240
Ra
Old Armor
DFP +245
Wa, Dei, Ra, Dec
Alumina Armor
DFP +400, REG +5
Wa, Ra, Dec
Power Robe
DFP +25, MAP +25
Se, Me
God Robe
DFP +420, MAP +85
Se, Me
Rusi Armor
DFP +220, REG +50
prevents instant death
Me, Ru, Mi
Iris Armor
DFP +250, REG +200
Se, Me, Ru, Mi
Diamond Coat
DFP +200
Is
Wind Buckler
DFP +28
Se, Me, Ru, Mi
Pearl Shield
DFP +40
Wa
Fire Shield
DFP +45
Wa, Dei, Dec, Yu, Is
Old Shield
DFP +130, REG +33
Wa, Dei, Dec
Pearl Bracelet
DFP +75
Se, Ai, Me, Ru, Mi
Dark Glass
DFP +90, REG +15
eff. against nocturnal attacks
Se, Me, Ru, Mi
Iris Shield
DFP +150, REG +50
absorbs holy attacks
Se, Me, Ru, Mi
Alumina Helm
DFP +120
Wa, Dei, Ra, Dec
God Helm
DFP +125
Wa, Dec
Light Helm
DFP +130
eff. against light attacks
Ra, Dec
Pearl Helm
DFP +135
Wa
Iris Met
DFP +90
Se, Me, Ru, Mi
Glass Ring
MAP +4, REG +4
use Confuse
Se, Me, Ru, Mi
Red Ring
all +5, yellow SF+
Maxim had it on when he died
Wa
Blizzard Ring
MAP +30
use Blizzard
all
Fire Ball Ring
MAP +30
use Fireball
all
Diamond Ring
ATP +30, DFP +30, REG +20
use Holy Light
Se, Mi
Bishop Ring
reduce damage from holy attacks
Se, Me, Yu, Ru, Mi
Ice Amulet
REG +20
absorbs ice attacks
Se, Me, Yu, Ru, Mi
Thunder Amulet
REG +20
absorbs thunder attacks
Se, Me, Yu, Ru, Mi
Flame Amulet
REG +20
absorbs fire attacks
Se, Me, Yu, Ru, Mi
Evil Amulet
eff. against nocturnal attacks
all