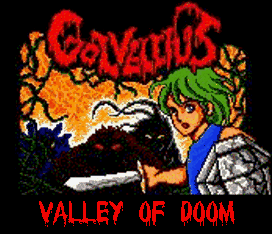 "I'm going into the valley for Rena. Any who tries to stop me...shall feel the bite of my sword!"

Kelesis entered the cave leading to the Valley of Doom.

And thus began his quest...





•First Updates Since 2007!
04.05.2015 Update by Loom
It's literally been YEARS since I have done an update to this site and there have been numerous developments over the years with ports of Golvellius moving onto (and off of) various platforms. I intend to update the shrine to reflect these changes as well as clean up some of the pics / graphics.

•Minor Housekeeping Part II
03.16.2007 Update by Loom
It's been a while since I've updated this shrine. Some key updates concerned the MSX section: Minor fixes to the MSX history and extras pages. One of these days I will redo the sprites so they aren't quite so fuzzy.

•Minor Housekeeping
06.14.2004 Update by Loom
The full walkthrough now contains links at the bottom of each page so it is easier to navigate. The monsters section had a small revamp as well; I took the orange background out from behind each enemy image. Lastly, the extras page was fixed up to look more organized. Thanks to those that gave these suggestions! :)
•Shrine Completion?
05.30.2004 Update by Loom
After a couple months of work, I believe the Golvellius Shrine is complete. I really can't think of anything else that needs attention, but if you see anything that I have left out, please feel free to e-mail me with any suggestions. The focus of the site is mainly on the Sega Master System version, as this shrine will be located under SMS section. I did throw in some information about the old MSX versions of the game in case anyone wants to see the version history or still has the game.
•Creation Phase Begins
04.07.2004 Update by Loom
Today I begin the Golvellius Shrine. I remember playing this game as a young kid and it will be a treat to finish the shrine of one of my all-time favorite games.



Created and Maintained by:
Golvellius © Compile 1988
Reprogrammed Game by

© 1988


(c)2006 RPGClassics.com. All materials are copyrighted by their respective authors. All games mentioned in this site are copyrighted by their respective producers and publishers. No infringement on any existing copyright is intended. All rights reserved.