Puzzle Spoilers
WARNING! It's much more fun to solve the puzzles yourself, so read this page only if you are ABSOLUTELY stuck!
Nightshadow: Set all sundials to 9 ("The lives of a cat")
Asp: Change the colors of the orbs around the well so that they alternate: SW red, SE blue, NE red, NW blue
Witch Tower password: ROSEBUD
Castle Basenji password: THERE WOLF
Name of the Northern Sphinx: GOLUX
Castleview:
Chest puzzle: PITCHFORK
Miles the Cartographer's puzzle: SANDCASTER
Sandcaster:
Edmund's riddle: 3
James' riddle: 100
Lakeside:
Skull's puzzle: WITCH
Olympus:
Sewer password: TRIBBLES
Castle Kalindra:
Safe combinations:
Dungeons: 3-6-9, 7-7-7, 10-20-30, 1-2-3
Level 1: 5-17-58, 6-6-6, 14-4-25, 69-25-71, 8-12-32, 4-9-53
Level 2: 64-52-31
Level 3: 3-31-62
Great Northern Tower:
LET SLEEPING DOGS LIE
HE WHO LAUGHS LAST, LAUGHS BEST
THE NEEDS OF THE MANY OUTWEIGH THE NEEDS OF THE FEW
LOVE OF MONEY IS THE ROOT OF ALL EVIL
DON'T LOOK A GIFT HORSE IN THE MOUTH
A FOOL AND HIS MONEY ARE SOON PARTED
IF WISHES WERE HORSES, BEGGERS WOULD RIDE
Desert of Doom:
Boulders' riddle: PALADIN
Great Pyramid:
Lvl1:
*8* *5*
7*9 10*6
*3* *4*
Lvl 2: (1993 + 1492 + 1776 - 32) : 3 - 42 = 1701
Escape Pod 2 password: WHERE NO MAN HAS GONE BEFORE
Brother Reger's riddle (A4 1/4): PALINDROME
Skyroad:
Travelling merchants' riddles: STEAM, MUD, DUST, SMOKE
Dragon clouds password: INFINITY
Name of the Southern Sphinx: PICARD
Dungeon of Death, Crossword puzzle: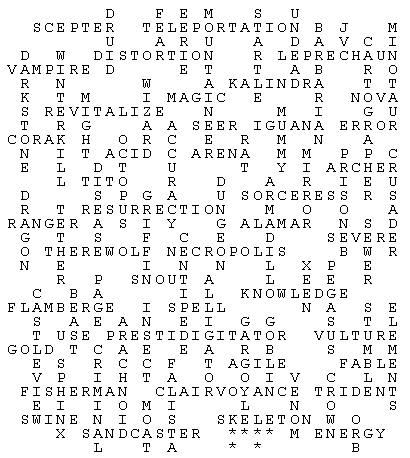 (c)2006 RPGClassics.com. All materials are copyrighted by their respective authors. All games mentioned in this site are copyrighted by their respective producers and publishers. No infringement on any existing copyright is intended. All rights reserved.