Site Navigation

•RPGClassics Main
•Contact Maintainer

Shrine Navigation

•Character Creation
•Cheats
•Downloads
•Enemies
•General Info
•Items
•Puzzle Spoilers
•Secondary Skills
•Spells
•Status Ailments
•The Arena
•Walkthrough
•World Map
•Thanks

Castle Dragontooth Walkthrough
Corak's Notes on Castle Dragontooth:
Castle Dragontooth is a varitable haven for followers of the evil way. Malefactor, King Malicious (often called King Insane by those who know him), will lower his drawbridge for any crusader who offers to help in his plot to control the people of Terra. Those who oppose him, and find themselves unlucky enough to be within his castle walls, are thrown into the pits of acid in the northernmost chamber.
Monsters in this area: Castle Guards, Dark Pegasi, Wizards.
Map of Castle Dragontooth: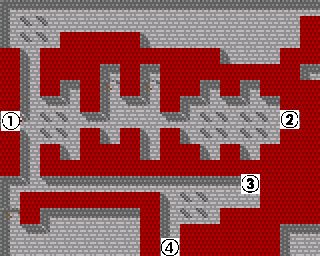 Entrance/Exit.

King Malefactor. Approach his throne, and he will give you a quest: You are to bring him Ultimate Power Orbs, so that the forces of Evil may defeat the forces of Good and Neutrality. You get 1 million experience for every Orb you give him. The award you get after giving Malefactor an Orb will track the amount of Orbs you've given him so far. Watch it, though; he takes ALL Ultimate Power Orbs your party members are carrying when you talk to him. After giving him 11 Orbs, he will use their power to destroy Castle Whiteshield and Castle Blood Reign. After this, the alignment of all party members will become evil, plus they will receive the award "Champion of Evil", and the Blue Priority Pass Card. So make sure this is what you want, and that you've finished your business at the other castles before doing so. You can't finish the game without giving 11 Ultimate Power Orbs to one of the three Kings, though.

Pathos. He will also give you a quest: To return the Ancient Artifacts of Evil to him. You will receive a new award from doing so, which will track the amount of Artifacts of Evil you've given to Pathos. For every Artifact you give him, all party members with Evil alignment will receive 500000 experience points. All other party members will receive 100000 experience per Artifact. Unlike the artifact collectors in the other castles, Pathos will only take one Artifact every time you talk to him, so if you have more than one you'll have to talk to him multiple times.

Entrance to the Dragontooth Dungeon. You'll need the password to get in.
Unlike the castles of the other two kings, Castle Dragontooth's guards aren't very hospitable; you'll be attacked on sight. So to make sure you won't get interrupted later, walk through all unobstructed areas first to clear out all the guards, a task that should be pretty much considered to be a waste of your talents at this point. When they're all gone, go talk to King Malefactor, then to Pathos, to add the quests I mentioned above to your list, and to exchange any Artifacts of Evil you may have (by the time I usually get here, that's quite a bunch, too) for experience, not forgetting to talk to Pathos once for every artifact you have.
The two chests right next to King Malefactor's throne need a passcode to unlock them. When you approach them, you will be asked: "What is 14 + 9?" And no, it's not 23. You didn't really thing it was gonna be that easy, did you? It's worth trying to figure it out though, because you will find 5000000 gold, 5000 gems and 5 random items totalled. The items you find tend to be of the highest quality, as well. However, opening either of the chests will release a group of powerful Wizards. These guys will be left unimpressed with most spells, so physical attacks are the way to go. They attack with a powerful spell that deals 1000 points worth of Magic damage. If your Magic resistance isn't very high, you could be in serious trouble. But of course, to get into that trouble in the first place, you'll need the passcode for the chests. Well, if you've been to the castles of the other kings before this one, you can probably guess what a message on the wall confirms: "The answer to the riddle of the chests lies in the dungeon".
Speaking of messages on the wall, there are a lot of them here. Here are the others you might come across. "Sisters of the western Witches live below" (a preview of what's to come in the dungeon), "Few return from Dragon Cavern" (and that's quite understandable, as it's one of the toughest areas in the game), "A true test is the Tomb of Terror" (which may be true, but it's not nearly as hard as the Dragon Cavern), "Mutant Mountains are prone to avalanche" (see the area F1 walkthrough), and "Visit all the statues to gain entrance to the dungeon".
That last one sounded pretty interesting, didn't it? After all, the dungeon is where you want to go in order to be able to loot King Malefactor's treasures. So visit all the statues and see if you can answer the question you're asked when you ty to descend into the dungeon: "How many of the Castle's Guard survived the final stand against the werewolves?"
Okay, okay, I'll give you a hint. The statues that you can reach now are not all of the statues. There's a door in the southwest of the castle, behind which are a bunch of Dark Pegasi. They shouldn't be too difficult to defeat. Behind them you'll find another statue. "Big deal, I could've found that one myself", I can hear you all say now, and of course you're right about that. But there's yet another statue somewhere which is hidden quite well. If you look at the map, you can see there's a couple of areas there you can't normally reach. You'll need to use the Teleport spell to get there. Don't bother going to the small chamber in the northeast unless you want to be thorough, since there's just a Wizard in there. But in the chamber in the southeast corner, there will be a Wizard guarding a statue. This statue will tell you all you still need to know to solve the dungeon entrance puzzle. If you can't figure it out yourself, check out the puzzle spoilers section to find out.
But we're not quite done yet here. Before going to the dungeon, there's some more goodies to collect. Go back to the castle's entrance, and go east towards Malefactor's throne room. In the antechamber to his throne room, there are some alcoves in the walls at either end. At the north side, you will find that both of them have walls that you can bash through. You'll find a treasure chest behind either one, and they contain a total of 35000 gold, 1000 gems and 5 random items. The items will probably not be very good, but hey, at least these chests don't trigger the release of any Wizards.
And oh yes, then we still have those pits of acid in the northern area of the castle. You can search them if you have Rope and Hooks (or just use the Create Rope spell). However, a character who does so will take a whopping 500 damage, against which no amount of resistance will protect you. The first pit you come across is empty, but whoever enters it will get 20000 to 25000 experience. Not really worth it, but you can if you want to. The second one is a little more interesting. There's three Quatloo Coins down there, which you can put to good use at the Slithercult Stronghold. The third is another "empty-but-here's-a-little-experience-for-your-trouble" pit. The fourth... 5 more Quatloos! That makes eight now, in case you're... well, stupid. The fifth is empty again. There's two pits one more space east, both containing something useful. The northern one holds 4 random items that are of excellent quality, and in the southern one is an Ancient Artifact of Neutrality. Next pit... another 4 Quatloo Coins! Dang, looks like you might need to take more than one trip to the Slithercult Stronghold... it's unlikely you'll be able to carry that many coins at once. And then finally there's only one more pit left, way in the northeastern-most corner, where you'll find another Ancient Artifact of Neutrality.
Adjacent areas:


(c)2006 RPGClassics.com. All materials are copyrighted by their respective authors. All games mentioned in this site are copyrighted by their respective producers and publishers. No infringement on any existing copyright is intended. All rights reserved.