This neat and inexpensive little item allows you to ride across the screen on a mini-dragon for about 5 seconds per egg. They hold no practical use in battle other than escaping a pitfall, but Dragon Eggs are invaluable during a 2-D Special Stage. Some of the toughest jumps and obstacles can be easily flown over or around with a Dragon Egg, and if you are killed during a Special Stage, a Dragon Egg acts as a Continue: in other words, you can try the stage over again instead of going ALL the way back to the last Convenience Store.... huzzah!
Dragon Eggs sell for 25 Sen and you can hold up to 15 at a time! Check the screenshots below to see the Dragon Egg in action.

Boo Bomb
Select one of these in battle to toss a bomb at the enemy. I would not recommend wasting these on enemies, as the blast is weak. Boo Bombs have a much more significant use than blowing up retarded enemy robots (though wasting Boo Bombs like that is a guilty pleasure!) Rather, Boo Bombs can blow open weak walls in dungeons which lead to hidden treasures, such as ......... I've said too much.... heheh! Boo Bombs sell for 10 Sen and you can hold 8 at a time.
The first screenshot shows the Boo Bomb being tossed at an enemy. The second and third are of a bomb being used to blow up a weak wall. As a general rule, if you see a crack in a wall, try to bomb it!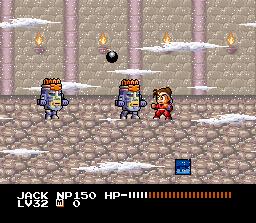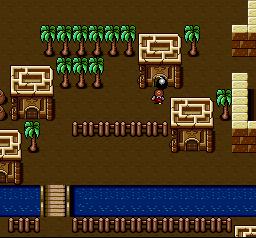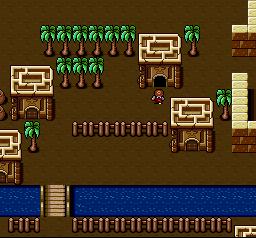 ---

Cupsule
In the rare event that you are petrified in battle, opening the menu and selecting a Cupsule shall cure what ails you! A Cupsule loses points for not being able to be used in Boss Battles, unless you are playing with a second player. You can hold 10 at a time, and they cost 20 Sen each.
As you can see, poor Jack succumbed to petrification in the left screenshot. But 1 Cupsule later, he's okay and ready to fight again (or lie down on his back!) 8P.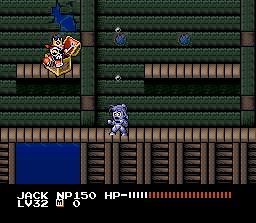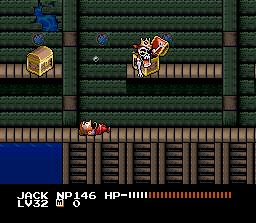 ---
Bot Items
Bot items can be used on the Overworld or in towns, but not in dungeons or in battle. Bots provide services for relatively small amounts of Sen.

Errandbot
Errandbot can be found stowed away in a stuffy old treasure chest in the Fairy Tower. After freed, he offers to do your shopping for you, and can be used to buy items on the World Map, instead of having to tread your tired little ninja feet all the way back to the nearest store! However, he will charge you DOUBLE for each item, and can only hold 5 items at a time!

Bonzebot
In the 1-Player Mode, Bonzebot is worthless. However, in the 2-Player mode, you'll love this little guy: using him as an item revives your dead teammate ANYWHERE outside of battle, for a small fee! Be warned though, the higher your experience level, the more money Bonzebot charges! BTW, Bonzebot can be found in Bongoman's Cave, in a hidden room (use a Boo Bomb to access it)!
---
Battle and Special Stage Items
During a battle/special stage, you will find P Blocks strewn across the battlefield or flying up in the sky somewhere. Break them with your fist (you may need to use a jumping punch, and a ? Orb will float out. Hit the Orb, and voila! You get a Battle/Special Stage item.

This is what a P Block looks like.... O_o.

This is what a ? Orb looks like. They float rather slowly, BTW.
And now, here are the items that can be found in ? Orbs:

M: Adds 1 M point to your M total. M points can be consumed in battle to unleash the ridiculously powerful Mighty Ball or Ninja Cyclone attacks, both costing 3 M to use. Maximum amount of M points is 15. Also, finding a Skull subtracts 1 M point.... \_/

Sen: Well, c'mon! It has a dollar sign on it! What do you think it does? Alright, fine.... it increases the amount of Sen earned at the end of the battle.

Potsticker: Usually found in the 2-D Special Stage after breaking open a P Block, this item recovers 30% of your total HP! Not bad!


(c)2006 RPGClassics.com. All materials are copyrighted by their respective authors. All games mentioned in this site are copyrighted by their respective producers and publishers. No infringement on any existing copyright is intended. All rights reserved.