Site Navigation

•RPGClassics Main
•Contact Kagon
•Contact Hiryuu

Shrine Navigation

•Home
•Armor
•Characters
•Hacking
•Items
•Magic
•Maps
•Monsters
•Recruitable Monsters
•Secrets
•Shopping
•Small Medals
•Thanks
•Walkthrough
•Weapons

Secrets
Item Easter Egg:
Every hit you inflict is a critical, and every monster that can join you will. To activate this, you must have the following items (and no other items) unequipped in the Hero's inventory in this order: Cypress Stick, Sharpened Bone, Hat of Happiness, Club, Saw Blade, and Cloak of Evasion. Note: Critical Hits permanently remove Mimics if you defeat them with one. Be careful when using this trick.
Unlimited Small Medals:
You might notice that Man-Eater Chests and Mimics come back constantly- both also drop Small Medals. Mimics drop Small Medals with a 100% frequency, and you don't even have to leave the room for them to respawn- keep examining the chest. However, you can permanently kill off the Mimics and Man-Eaters with a critical hit, so be careful.THIS TRICK ONLY WORKS WITH CERTAIN OLDER DEJAP PATCHES. IT WILL NOT WORK WITH THE NEWEST PATCH, AS IT WAS ONLY A RESULT OF A BUG.
Hidden Items: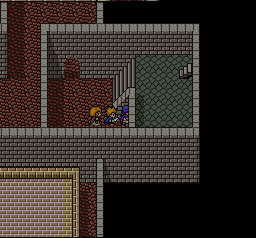 In Granvania, you'll find this secret passageway in the first floor of the castle. Inside, you can find a Hat of Happiness, Naughty Underwear, and a Ring of Prayer.


(c)2006 RPGClassics.com. All materials are copyrighted by their respective authors. All games mentioned in this site are copyrighted by their respective producers and publishers. No infringement on any existing copyright is intended. All rights reserved.