The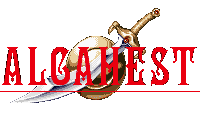 Shrine
Hello. You have reached the Alcahest Shrine. This is yournumber 1 source for information on the Super Famicom (Super NES) actionRPG, Alcahest!
Maintained by: d Galloway.
---
About Alcahest
Alcahest was released in Japan in 1993 by Squaresoft and Hal Laboratory (of Kirby and Lolo fame.) Unfortunately, this game never saw the light of day in the States. As far as I know, no one on the emulation scene is attempting to translate this, which is a major bummer. The game is much like Zelda, only it is broken into 8 different stages, and you don't go looking for a bunch of heart pieces. You get stronger as you complete each stage. The story centers around a young man named Allen who is sent on a mission to stop an evil force and collect the 4 guardian blades of fire, water, wind, and earth, and stop this powerful enemy. But, he is not alone. Our hero will have 5 other fighters accompany him on his journey. Go now! Vanquish this evil forceand save the world!
---
News
5/21/2K
This shrine opened up on RPG Classics. Also, new codes have been added to the codes section.
5/20/2K
All right. I guess now it truly is done. Busted my ass until 2AM lastnight. It's even crap box PC friendly!
---

Shrine Originally Created by: