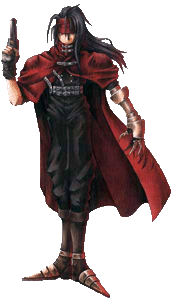 Job: Unemployed
Age: 27
Weapon: Gun
Height: 6'0"
Birthdate: October 7
Birthplace: Unknown
Blood Type: A
A mystical man, stern and upright while at the same time dark and mysterious. His past connection with Shinra, Inc. is what made him join Cloud and the others. He may seem frail at first glance, but hidden inside body lurks a fearsome power.
Vincent is an optional character. You can find details on how to get him to join your group in the secrets section.
Vincent's Ultimate Weapon
DEATH PENALTY
Location: You get this when you get his limit break manual (see above).
Condition: The more enemies that Vincent kills, the stronger this weapon becomes.


(c)2006 RPGClassics.com. All materials are copyrighted by their respective authors. All games mentioned in this site are copyrighted by their respective producers and publishers. No infringement on any existing copyright is intended. All rights reserved.