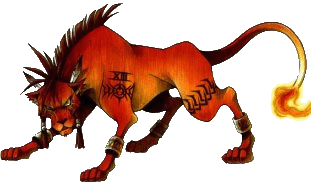 Job: Research Specimen
Age: 48
Weapon: Headress
Height: 3'9"
Birthdate: Unknown
Birthplace: Cosmo Canyon
Blood Type: Unknown
Just as his name implies, he is an animal with fire-red fur. But under his fierce exterior is an intelligence surpassing that of any human's. His sharp claws and fangs make him good at close-range fighting, but other then that, not much is know about him. It's not even certain that "Red XIII" is his real name. A real enigma.
Red XIII's Ultimate Weapon
LIMITED MOON
Location: Bugen Haagen will give this to Red XIII when he dies at Cosmo Canyon after the monster attacks Midgar City in Disc 2 (although you can get it in Disc 3, as well).
Condition: The more current MP you have remaining, the stronger this weapon is.


(c)2006 RPGClassics.com. All materials are copyrighted by their respective authors. All games mentioned in this site are copyrighted by their respective producers and publishers. No infringement on any existing copyright is intended. All rights reserved.