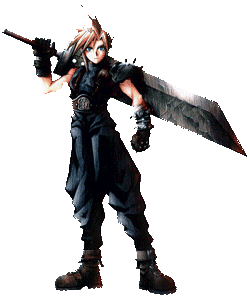 Job: Mercenary (ex-member of Soldier)
Age: 21
Weapon: Sword
Height: 5'7"
Birthdate: August 19
Birthplace: Nibelheim
Blood Type: AB
The main character in FF7. Originally a member of Soldier, he is now a mercenary who will take any job. After being hired by Avalanche, he gradually gets caught up in a massive strugle for he life of the planet. His enormous sword can cut anything in two.
Cloud's Ultimate Weapon
ULTIMA WEAPON
Location: Kill the Ultima Weapon flying around in Disc 3. It will take a few tries as he will escape from battle several times before finally facing you.
Condition: The more current HP you have, the more damage this weapon inflicts.


(c)2006 RPGClassics.com. All materials are copyrighted by their respective authors. All games mentioned in this site are copyrighted by their respective producers and publishers. No infringement on any existing copyright is intended. All rights reserved.