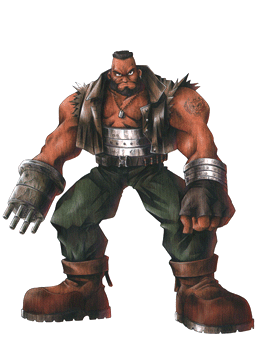 Job: Leader of avalanche
Age: 35
Weapon: Gun Arm
Height: 6'4"
Birthdate: December 15
Birthplace: Corel Village
Blood Type: O
Head of the underground resistance movement, Avalanche, Barret is fighting the mega-conglomerate Shinra Inc., which has monopolized Mako energy by building special reactors to suck it out of the planet. Barret depends on brute strengh and his "Gun-arm" to see him through. His wife died in an accident several years ago, and he now lives with his daughter Marlene.
Barret's Ultimate Weapon
MISSING SCORE
Location: Look on the landing near the Sister Ray during the raid on Midgar City in Disc 2 (if Vincent's not in your party, he'll be on the landing near the chest with the Ultimate Weapon in it). This weapon only appears if Barret is in your party.
Condition: This weapon gets stronger if you equip materia on it.


(c)2006 RPGClassics.com. All materials are copyrighted by their respective authors. All games mentioned in this site are copyrighted by their respective producers and publishers. No infringement on any existing copyright is intended. All rights reserved.