Site Navigation

•RPGClassics Main
•Contact Maintainer

Shrine Navigation

•Main
•Characters
•Downloads
•Enemies
•Experience Chart
•Frescoes
•Hacking List
•Information
•Items
•Locations
•Map
•Objects
•Obstacles
•Puzzles
•Shadows
•Status Ailments
•Thanks
•Tips
•Walkthrough
•Weapons

Map
Welcome, brave few, to the interactive Sweet Home Map. A few words of wisdom to those who enter:
-Click on a door to enter the corresponding room. If a door is locked, hold your cursor over the door and it will tell you which key will unlock the door.
-Each room's enemies and any misc. comments I have about the room will be listed at the bottom of each room.
-Hold your mouse over any item or weapon, and like magic, the name of the item will appear. Most obstacles and objects will behave in the same manner.
-Itching to spoil the game even more? Holding your mouse over frescoes, notes, etc. will cause their hints to show up.
-Are you ready? Night-light on? Take a deep breath and click on the door to enter the mansion of Sweet Home!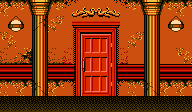 What's that? You're not interested in exploring the mansion from the beginning? In that case, click on what part of the mansion you want to start at from the list below!
2nd Floor


(c)2006 RPGClassics.com. All materials are copyrighted by their respective authors. All games mentioned in this site are copyrighted by their respective producers and publishers. No infringement on any existing copyright is intended. All rights reserved.