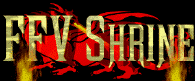 Welcome to the Final Fantasy 5 Shrine, the only place you'll ever need stop on the web to get answers to all your FF5 needs.
Maintained by:


Please note that this shrine was made with the SNES version in mind. The only big differences between the SNES version and the PSX version is that there are FMV sequences in the PSX version, and the names of certain characters, locations, monsters, items and spells may be different. Also, the Cheat Codes on this page will NOT work with the PSX version.
Suggestions, corrections or any additional questions about the game? Feel free to e-mail me.
Site originally created by Rast.
Final Fantasy V © 1992
Square