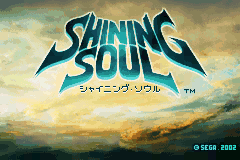 Once upon a time...
A dark dragon
Aiming to destroy the world
Gathers the Army of Darkness
and was going to turn the fertile earth into wasteland
The power of Light has not disappeared
Even in those years of darkness
The 4 heroes chosen from
The Army of Light
Thus went to fight against
The evil forces

---
Created and Maintained by a robot.
Last Updated:
Shining Soul © 2002
SEGA Corp.


(c)2006 RPGClassics.com. All materials are copyrighted by their respective authors. All games mentioned in this site are copyrighted by their respective producers and publishers. No infringement on any existing copyright is intended. All rights reserved.