Welcome to the Final Fantasy Mystic Quest Shrine!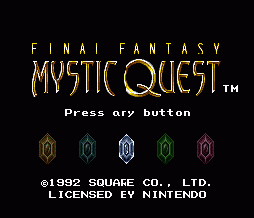 Maintained by: Sephiroth Katana

12/26/02
The Walkthrough that used to be here has been replaced by one of my own writing, doubtless a source of endless delight to everyone who was concerned with this issue in recent and not-so-recent history. Actually, it's been posted here for almost a month, ever since I wrote it over the course of one weekend, but I suspect that no one whom I hadn't told noticed it.
7/19/01

Sephiroth Katana formally takes over this shrine.

7/10/01

The previous maintainer, Death Lock, has retired from RPGC, we are currently looking for a new maintainer (which I expect to be done by Saturday). In the meantime please continue to send any questions about this game to Death Lock until the new maintainer is found.

9/27/00
This shrine opened today. Some sections, such as enemies and a html walkthrough, are not up yet, so any links to them will not work. Hopefully they'll be up soon.


Created by: