Site Navigation
•RPGClassics Main

•Contact Maintainer


Shrine Navigation
•Shrine Home

•Bosses

•Characters

•Cheats

•Heart Containers

•Items

•Levels

•Link Dolls

•Magic Potions

•Magic Spells

•Maps

•Monsters

•Walkthrough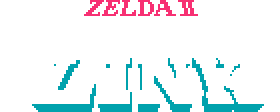 July 13, 2006
RPT here. Rirse turned the shrine over to me. I've gone through it and touched up the writing everywhere, adding some comments to the wallkthrough in the process. I also changed the walkthrough for the Great Palace so that it actual has the correct set of directions now. I added two hidden rooms to the Great Palace map (they're through fake walls on the left side of the first long elevator you come to). Lastly, I put up a Cheats page.
March, 05, 2005
Been a long time since the last update, but personally there not much left to change (most of the layout changes happened without a update) other then the walkthrough. I recoded the shrine, change the layout of the monster/boss page, and added infomation send in by the vistors. Seeya later.
May, 23, 2003
Well Orakio has retired from RPGC, and with my knowledge of Zelda 2, decided to take over his work. I have changed almost everything in the shrine, except the walkthrough (except a fixed button on the bottom). Except more updates in the summer, as I will be done with BS Zelda by then.
March, 2002
The Legend of Zelda 2 shrine was created by Orakio.
Maintained by:
Formerly maintained by:

Even more formerly maintained by

Orakio


(c)2006 RPGClassics.com. All materials are copyrighted by their respective authors. All games mentioned in this site are copyrighted by their respective producers and publishers. No infringement on any existing copyright is intended. All rights reserved.