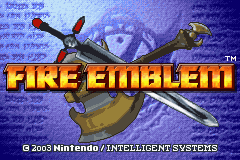 Welcome to the Fire Emblem Shrine! This game is the English version of Fire Emblem: Rekka no Ken for gameboy advanced. Hope you can find all the information you need here.
* If you would like to email me about anything, please put fire emblem in the title of your email. I will discard any unknow email. Thank you.
Update:
Jan 21, 2004
This Shrine is born!
Created and Maintained by: qinghan
Fire Emblem © 2003

Nintendo/Intelligent Systems


(c)2006 RPGClassics.com. All materials are copyrighted by their respective authors. All games mentioned in this site are copyrighted by their respective producers and publishers. No infringement on any existing copyright is intended. All rights reserved.