Site Navigation

•RPGClassics Main
•Contact Maintainer

Shrine Navigation

•Attacks
•Codes
•Gym Leaders
•Items
•Mart
•Pokedex
•Items
•Thanks
•TM/HM List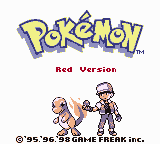 This Shrine covers Pokemon Red and Blue


•Attack Page done
07.19.2001 Update by Magus
The attacks page is finally done, plannin on gettin all the other stuff done soon, like a walkthrough, battle chart etc.


Pokemon may seem like crap to some people but the game is pretty good. If you hate pokemon but never played thegame just try it, it won't hurt ya.

Currently Maintained by: Merlin.

Originally Created by:

Magus

and Ice.