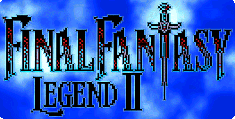 Welcome to your number one source for Final Fantasy Legend 2 Information on the Web. The Final Fantasy Legend 2 Shrine! This shrine is maintained by Kagon and Skankin' Garbage. The shrine was originally created by Maquiladora.
5/27/01
Fixed broken links and added some to the enemies and glossary.
6/17/00
A few minor fixes.
6/12/00
This shrine opened today.
Final Fantasy Legend II © 1991

Square Enix/Sunsoft


(c)2006 RPGClassics.com. All materials are copyrighted by their respective authors. All games mentioned in this site are copyrighted by their respective producers and publishers. No infringement on any existing copyright is intended. All rights reserved.