Walkthrough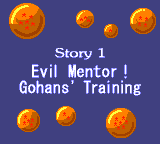 Ok, the game begins after the battle with Raditz as Piccolo is training Gohan. Go talk to Piccolo. Do what he says, then when he tells you to go find the jars, do so. At the jar you'll be asked a question. I won't tell you the answer so that you know how well you understand the battle system. After you answer you'll get a card. Now go back to Piccolo, talk to him, and repeat this process until he asks you what type of deck you want. Either Beam or Damage. I suggest you go with Beam. After a bit of talking, you will fight with Piccolo.
Name: Piccolo
Difficulty: Easy
You'll end up attacking first here, so use a 3 stage attack and put in the commands to gain some CC. If Piccolo gathers power you better do it too. On his next turn, if you have Foresight in your hand use it so he can't do damage to you with his 4 or 5 stage attack. Now, I suggest using a 4 stage attack, or just hit him with a masneko. Now on his turn this time, he'll use his Special Beam Cannon, so be sure that you have an avoid card. If you don't, move Gohan to the bottom left corner of the field so he won't take as much damage. Repeat this process until you win.
Congrats on winning your first battle. You can now take 1 of 3 cards. Choose which ever one you want or that you think will be useful.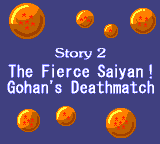 Looks like the Saiyan's have arrived. Gohan and Piccolo meet up with Krillin and the rest of the gang. The battle is losing for Piccolo and Gohan as they watch the deaths of Yamcha, Tien, and Chiaotzu. Nappa then decides to kill Gohan with a beam attack, but Piccolo takes the hit instead to save Gohan. Gohan then gets very angry and fights with Nappa.
Name: Nappa
Difficulty: Normal
All you have to do is use the same strategy as above. Pummel Nappa with 3 and 4 stage attack. If he doesn't gather power around the his 4th or 5th turn, make sure endurance is ready. If he does, use the same tactics as you did with Piccolo. Repeat until big moron falls and goes boom.
Pick your card and watch the scene.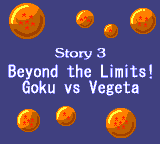 Goku has finally arrived and is ready to take on Vegeta one on one. After Vegeta "disposes" of Nappa, Goku leads Vegeta to a place where they can fight.
Name: Vegeta
Difficulty: Hard if you're new
Before you begin the battle, equip Goku's limit with Super Kamehameha, Kaioken, and anything else you want. Just be sure that you have those 2 cards set as his limits. Now attack Vegeta normaly with 3 and 4 stage attacks. You should know the process of them powering up and stuff by now. When he does, have Goku do it, and during your defense phase, have Goku use Kaioken and then attack with Super Kamehameha on your attack phase. And beware of Vegeta's Galick-Ho. Its a weak card, but this far into the game it can do some damage. Just repeat the process until he's beaten.
Take your card and watch the scene.
Hmm. Looks like Vegeta's kicked Goku's ass and now he's pissed at Yajirobe. Before we go and "try to escape" go to the nearest rock formation and hit A in order to get Yajirobe's sword. Then go to Krillin and say yes. Then talk to Yajirboe. Watch the scene and prepare to kick Saiyan ass.
Name: Vegeta
Difficulty: Normal
This is just like the last fight, only this time you don't have daddy fighting for you. Its the same strategy none the less though.
Pick your card and watch the scene.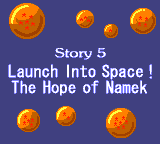 After a bit of conversation, you'll be placed on a map. Go left to the Namekian village and there is a house that can only be reached by a row of trees. Press the A button and you'll get the Dende card, which is very useful when you need healing. Now, go to the island and press A when you're next to the right most tree to get the Dragon Ball. You'll then encounter a Namek who thinks that you're the one who attacked the village. Dodge either way you want, but I picked left. After that you run into Vegeta, head over the Guru's, team up with Vegeta for the time being, and then the Ginyu Force shows up.
Name: Guldo
Difficulty: Easy
You can pik either Gohan or Krillin now. I'd suggest you pick Krillin to at least get him to level 2. if not just use Gohan. All you have to do is use the normal strategy here.
Pick your card and watch/read the scene.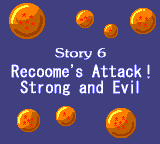 The Saiyan Prince does his best to beat up Recoome. But it's just not enough. So it looks like you'll have to step in again.
Name: Recoome
Difficulty: Almost Hard
Just whale on Recoome normaly with 3 or 4 stage attacks. After you've taken out a good amount of HP, he'll use his Eraser Gun that will take out a good amount of your HP as well, so be careful.
Get your card and watch the scene.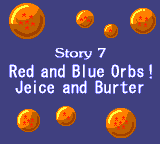 Gohan is about to get squashed, then Goku appears and kicks Recoome's arse with on blow. Then Burter and Jeice give it a shot.
Name: Jeice and Burter
Difficulty: Normal
This is your first 2 on 2 battle. I suggest you put Gohan in front, and Goku in back so that if Gohan loses, Goku can step in. Use your normal strategies, and when Goku or Gohan reach about 1/4 of their HP, I'm hoping that you put the Dende card in your deck. Once you've got Jeice out of the way, you get to fight Burter, only he won't use Ki Blasts. Instead he'll use Mach Attack, so I hope that you've got Shokwave in your deck. When you get the chance on either Jeice or Burter, have Goku power up, Kaioken, then Spirit Bomb. You should have it by now.
After that take your prize and watch the small scene.
Jeice gets scared and flies off to Ginyu about what you've done. Vegeta will talk a bit about the legend of the Super Saiyan, but Goku has no clue. Ginyu comes back, then Goku tells Gohan and Krillin to get the Dragon Balls. In the top left corner of the map, their should be a space pod. Hit A to get a card. You'll see a path of dirt north of the ship. Hit the A button and collect dig up the dragon balls. Talk to Krillin afterwards. Looks like Goku's back. Wait...nope. Its just Ginyu in Goku's body only alot weaker. Lets have Gohan beat on his dad's body.
Name: Ginyu (Goku) and Jeice
Difficulty: Easy
Be careful in this battle, seeing as how Ginyu will use Super Kamehameha. Just use your regular tactics and whale on him, then Jeice will fly in. If Gohan is anywhere near death, replace him with Krillin. Its pretty much the same here too. Have Krillin use MistyKiWave when you get a chance. Jeice may or may not use Crasher Ball. If Krillin happens to get low on Hp, switch back to Gohan and get rid of Jeice.
Get your card and watch the scene.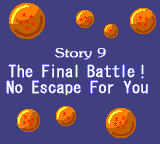 Looks like Goku's here to fight now, while Vegeta, the Saiyan Prince, dies crying because of the hell Freeza put him through. Goku then vows to kill Freeza for what he has done. Time for one of my favorite battles in the game to start.
Name: Freeza
Difficulty: Almost Hard
Freeza likes to use two attacks after he powers up. Ground Wave and Super Dash Elbow. But it turns out that Super Dash elbow happens to be his favorite. Try and get your CC up to about 65-70 so and when you get a chance use Kaioken and throw Spirit Bombs at Freeza so he'll take major damage.
Pick a card, any card. Now watch the scene.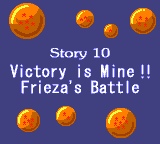 The Z fighters begin to rejoice because they believe that they have killed Freeza, until he shoots a small energy beam through Piccolo's heart and decides to take kill off Krillin. This enrages Goku and pushes him to undergo the Super Saiyan Transformation. Gohan will go off to find Bulma and notice that the sky has turned black. Bulma's in the North West part of the map. Talk to her and say no, then go to the pile of rocks and hit A to get a card, then go back to Bulma and say yes. You'll start to fly with Bulma, when all of a sudden you end up on earth. Now the scene switches back to Goku on Namek who is ready to kill Freeza.
Name: Freeza
Difficulty: Almost Hard
This battle will be almost the same as last time. Only with a Super Saiyan Goku. You can still ue the Spirit Bomb, but not the Kaioken. Get a nice amount of CC while using your normal tactics, then just keep throwing the Super Kamehamehas and Spirit Bombs at Freeza. He will eventually die.
Take your reward and watch the nice little scene.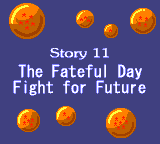 Namek goes boom and the gang recovers all of the dragon balls to revive Krillin and Yamcha. Then 140 days later, they ressurect Tien and Chiaotzu. A mysterious boy comes and gets rid of Freeza, then Goku comes back. Now you'll be on a map. Talk to Piccolo and then search for him 5 times. I'll let you rely on yourself in order to find Piccolo's "ki". Find him 5 times and get Gohan's Dunk Shot (or Masenko if you chose the Damage deck). Then go talk to Chichi to get another card. And finally go talk to Goku and get the 5 Stage Attack. Now you must fight Goku.
Name: Goku
Difficulty: Easy
This battle is actually pretty easy. Just use normal tactics. Goku is a push over, but when he uses ki attack he'll make them count by using Spirit Bomb which will drain you HP...fast. Just build up your CC's and throw those Masenkos or just pummel him with your new Dunk Shot.
Grab your card and watch the scene.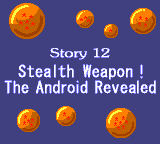 Looks like the gangs all here...except for Vegeta. Oh and, Yajirobe gets his car blown up so you have to go and save him. Pass up Yajirobe and talk to the two guys. After that, go talk the Chiaotzu to get a card. Then you'll find Bulma. Talk to her too then go get Yajirobe. Looks like the battle's started.
Name: Android 19
Difficulty: Normal
Unlike in the anime/manga, the android might or might not absorb your Ki attacks. He doesn't do it too often either. He does, however, have an attack that will drain your HP, so lets gain some CC, power up, and throw those Spirit Bombs.
Grab your card and watch the scene.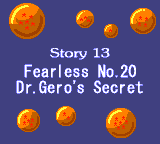 Looks like Vegeta is finally here. And he seems to have went to the level of Super Saiyan. He gets rid of 19 with no problems. Then Yamcha will take Goku to get his medicine. You'll then be on the map after giving Vegeta a senzu bean. Now talk to Krillin, Vegeta, and Piccolo. Tien's hidden in the northern part of the cliff. Press A to find him, then get ready to take on Android 20.
Name: Android 20
Difficulty: Normal
20 is pretty much the same as 19. Only he will use a Super E-Ball for his special. Just use the normal strategy and get rid of him.
Grab the card ya want and see what happens.
Piccolo and the others ran into a "bit" of trouble when Gero released 17 and 18. You'll then be on another map. You'll find another Time Machine that is exaclty like Trunks' but he has no idea about it. When you can move, talk to Trunks until he talks about the future. Then go look for the skin the Cell has shed. Piccolo decides that the only way to beat them is to fuse with Kami. He then finds out what the real threat.
Name: Cell
Difficulty: Normal
I suggest you have Piccolo-God. If he's not unlocked, lose to Cell once, continue, then repay him with a death of his own using normal strategies. But beware that Cell will use Special Beam Cannon and Super Kamehameha.
Grab your card and watch the scene. Btw, this i the last time I will say this. You know how it goes by now.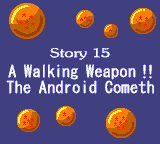 Well poopy. Cell was able to escape. But now Goku has finally recovered. He Teleports to the airship thingy that the gang is on and says hi to Kamiccolo, then gets told by Piccolo not to join their names. Goku tells Vegeta, Trunks, and Gohan about a time Chamber where one day outside of it is equal to one year inside, making it the perect place for them to train. While Vegeta and Trunks go in first, Piccolo decides to take on Android 17.
Name: Android 17
Difficulty: Semi-Normal
If you have Piccolo-God this battle will be a lot easier. He won't absorb your energy, but he will attack with Crazy Rush or Super E-Ball. Anyway, use normal tactics and use Special Beam cannon when you can.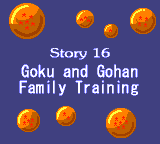 Looks like Goku got Tien and Piccolo back to the lookout. Vegeta and Trunks finally come out of the time chamber and they decide to take their chance at Cell. Goku and Gohan enter the chamber. Now you're on a map. There's a note behind the building. Read it and do what is says. If you did so you'll get Kaio, Trunks' Sword, and Solid Shot. Now talk to Goku and something strange will happen.
Name: Android 16 and 18
Difficulty: Almost Hard
This battle can be tricky. 16 will usually use Rocket Punch for his special. Then 18 uses a bit of a Variety. Its also advised that you have Goku-SS help you. After you get rid of them, the battle's over.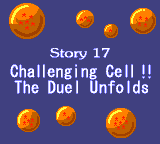 Goku and Gohan finally come out of the chamber. Its now 10 days until the Cell Games. But it seems that Goku has a plan, so he doesn't seem all that worried. After a bit of chatting, the Cell Games start, Hercule gets smacked away, and then Goku goes into the ring to begin the Cell Games.
Name: Cell
Difficulty: Normal
This battle is the same as it was with Piccolo. Only now he may use Cell Combo. But he tends to use the Special Beam Cannon most of the time.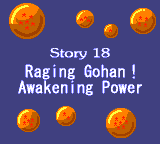 Goku gives up and selects the nect fighter...Gohan! Gohan doesn't really want to kill Cell, but Cell is now very interested in Gohan's powers. Then 16 jumps onto Cell and tries to Self-Destruct, but Bulma removed the bomb, so 16 is destroyed. he then releases some Cell Jr.'s on the Z Fighters. 16 has Hercule throw his head over to Gohan. Then 16 tells Gohan to protect the nature he loved...then Cell squashed 16's head with blood flying up out of it. This pisses Gohan off greatly, causing him to go Super Saiyan 2. He then goes to kill the Cell Jr.'s.
Name: Cell
Difficulty: Very Easy
Same strategy as Cell.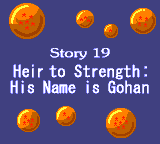 Not much of a scene here. Gohan and Cell talk a bit then the fight begins.
Name: Cell
Difficulty: Normal
I'm gonan hope you put Super Kamehameha on Gohan, because he can use it now! Lets do that. Same strategy for Cell as it was when you fought him with Goku.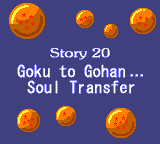 Goku tells Gohan to finish off Cell while he can, but Gohan says the Cell needs to suffer. Gohan deals a nice blow to Cell, Cell spits up 18, Cell reverts back to his second form, and gets ready to self-destruct. Goku, realizing that there is no other way, says good bye to the Z Fighters and tells Gohan how proud he is of him. He then Teleports Cell to King Kai's planet. The planet explodes killing Goku and King Kai. On Earth, as the Z Fighters are mourning the loss of Goku, a Smoke appears. A beam shoots out of it and goes right through Trunks' heart! I suggest you have Vegeta fight this final battle with Cell, so you can get the extra 2 stories.
Name: Cell
Difficulty: Normal
The strategy is the same, but before the battle begins Vegeta swears he will kill Cell for killing his son. Just use the same tactics as always, and he'll go down.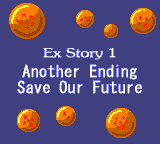 Trunks returns to his time to stop the androids. If you talk to the people onthe map, you'll find memos telling you how to unlock some characters. Anyway, talk to either one of the androids and start fighting.
Name: Androids 17 and 18
Difficulty: Normal
I suggest beating them with only Super Trunks. They use the same attacks and stuff as before, but you'll want to put that card you got from Bulma in your deck for this battle.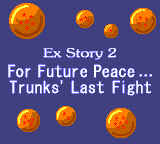 Its been 3 months since Trunks has defeated the androids. He now wants to tell Gohan and the others this, but it looks like Cell won't let him.
Name: Cell
Difficulty: Normal
Use the exact same strategies from when you fought him as Piccolo.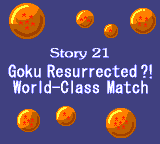 Its been 6 years after the battle with Cell. Gohan is now 16 and going to High School. Gohan meets a girl named Videl, who happens to be the daughter of Hercule. Gohan has Bulma make a disguise for himself so that he can fight crime without anyone recognizing him. But Videl finds out his secret and blackmails him. He must teach her how to fly and fight in the World Martial Arts Tournament. Now we'r on the map where you can find Piccolo up in the northwest "confined" area. And Videl in the south east corner. Talk to Goten to fight. I'm not even gonna bother going into detail for such an easy fight. Just use your normal tactics and beat your little brother.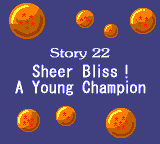 Goku's finally back and wants to take part in the tournament, but there is also a league for children. Videl was champion of that tournament a while back, but now Goten and Trunks will be the ones to fight for the prize!
Name: Trunks
Difficulty: Normal
Trunks is stronger than Goten because he's a year older, but he proves it too. He uses attacks like Burning Attack and Flash Punch. You should have Goten's Kamekameha. Guard against his specials while using normal strategies.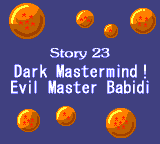 Here's a long scene. Basically Gohan's opponent tells him to go Super Saiyan 2. Then some of Babidi's minions attack Gohan and take his energy. Kibito heals Gohan and explains everything. You'll then be put on a map after a bit of talking. ON the map you must talk to everyone in order to advance the story. Babidi kills Yamu and Spopovich, then Dabura will sense the Ki of the Z FIghters and kill Kibito. Then the Z Fighters go into Babidis ship. Then Vegeta allows Babidi to take over his mind. Thus is born, Majin Vegeta. Watch the nice long scene then get ready to fight.
Name: Majin Vegeta
Difficulty: Normal
We've got Super Saiyan 2 Goku for this fight. Vegeta is a lot tougher now that he has Final Flash and Big Bang Attack. Raise your CC and power as much as you can without doing too much damage to Vegeta. Then if he flies up, SPIRIT BOMB! You can just use the normal strategy here as well.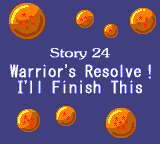 Here's another long scene. This one involves Gohan and Buu. Eventually you'll get to a map with Piccolo and Krillin. Press A to examine them. Then go back to the start to find Videl. Then talk to Trunks again. Now watch this nice little scene and prepare for a fight.
Name: Fat Buu
Difficulty: Normal
Buu is a liite funny to watch. Just watchout for Super E-ball and Potbelly Attack. Othersiwe normal strategies will work. And having either Final Flash or Big Bang Attack helps too.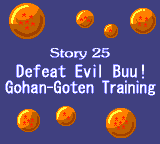 Vegeta scarifices himself to save Earth, then Gohan wakes up to find that he's in the world of the Kais. A scene happens there. After that Goku shows up because his time on earth was over. Back on earth, Goten watchs his mother be turned into an egg and steped on by Buu. Despite that, Trunks and Goten enter the time chamber and they end up running into Future Trunks. He says something about time overlapping. But Young Trunks wants to fight him. Might as well.
Name: Trunks
Difficulty: Normal
Use normal tactics here. And Trunks likes to use Rising Kick and Burning Attack so be careful.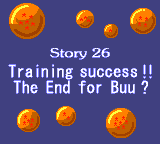 Gyah! Buu's broken into the time chamner, but Goten and Trunks have mastered fusing. They fuse and create a new warriors, Gotenks. Back in otherworld, the Z Sword breaks and out pops Old Kai. He offers to help out in the situation by making Gohan stronger (they've done this twice already...). Goku wants to know whats going on down on earth, so Old Kai gives Goku a crystal ball to see whats going on. Turns out that Buu's eaten everyone, and that made Gotenks a mad little boy, so he goes Super Saioyan 3!
Name: Buu
Difficulty: Normal
Use the same tactice on him as you normaly would, but just watch out for his Super E-ball.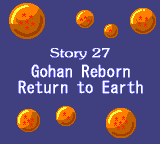 All seems well until Gotenks' fusion time is over. Goku sees whats going on and begs Old kai to finish. Thing was, he was done a long time ago. Old Kai tells Gohan how to use this new power, and Kibito drops Gohan off at earth. Gohan is ready to kick some Buu butt again! Buu gets over conifident because he remembers beating Gohan. Time to show Buu what its like to get a butt whooping!
Name: Buu
Difficulty: Normal
Pretty much the same as last time. Just gain CC's and throw some Super Kamehamehas if you gave them to this Gohan.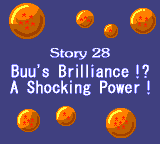 Buu gets super pissed and flies off. You'll find Piccolo though. We find Dende is alive somewhere as well. Its not too hard to find Dende on the map. Before you do though, look around for Hercule and find his dog. Hmm. Looks like Buu's come back. He then tricks Goten and Trunks into fusing into Gotenks, then Buu absorbs them and Piccolo as well. Here's a nice challenge for Gohan.
Name: Buu
Difficulty: Normal
This Buu is actually smart. If you throw a Super Kamehameha a him, he'll use Breathe to cancel it out! I suggest you beat him using any card you can while sticking to the normal strategy so that you know his moves.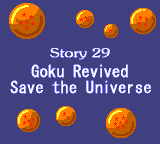 Gohan fought with all he had but it was no use. Buu just keeps regenerating, while Dende keeps healing Gohan. Then Buu decides to take care of Dende, just like Freeza did. But Tien counters the blast with his own. Then Buu gets really pissed and tries to blow up the earth, but Goku shows up at the last second (as always) and cuts Buu in half with his own Destruct-Disk. He then tells the gang that he has the Potara earrings (earring that can make two people fuse permanently). Buu gets a major power decrease because the boy's fusion ran out, then he absorbs Gohan! Goku than has to find someone to fuse with...then he find Vegeta's ki! He teleports in front of Vegeta explaining the situation. Vegeta doesn't want ot fuse until Goku tells him that Bulma and Trunks are gone. Then he tell Goku to give him the earrings. Afterwards Goku puts one on his left ear, and Vegeta oon his right ear and right before the two fuse, Goku says "Thank you...Vegeta". Now lets get some vengeance.
Name: Buu
Difficulty: Normal
Equip Vegito with Super Kamehameha, Teleport, and Big Bang Attack if you have it. You should be able to waste Buu in no time.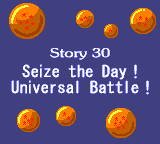 I'm not going to explain this scene sice its before the last fight, so just watch it on your GameBoy.
Name: Evil Buu
Difficulty: Normal
Hope you have Super Saiyan 3 Goku unlocked, because it makes this battle a lot easier. You know the strategy by now.
Congrats. You've now beaten DBZ: Legendary Super Warriors.