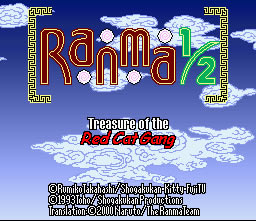 Welcome to the Ranma 1/2 RPG Shrine! where, I hope, you'll be able to find all the needed information for this game, which is based on the fantastic manga of the same name, created by Rumiko Takahashi.
Updates
March 20, 2004: Shrine Finished!
---
Created and Maintained by:
Ranma 1/2: Akanekodan Teki Hihou © 1993

Rumic Soft


(c)2006 RPGClassics.com. All materials are copyrighted by their respective authors. All games mentioned in this site are copyrighted by their respective producers and publishers. No infringement on any existing copyright is intended. All rights reserved.