Soul of Huffman Again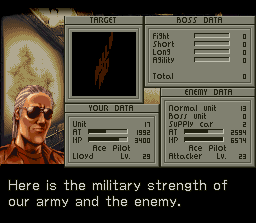 Natalie apologizes for what she said in the last mission (If she said it :p) Olson will try to convince Lloyd to forget about the incident and order you to go after the terrorists in the Dacker Mountains to the northeast. Frederick asks to leave the unit without explaining much and then you can leave town and head after the "Soul of Huffman".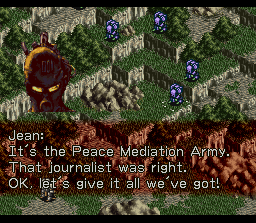 7 Attackers in ORGEL Lv 23 HP 510 (Body 150 Arms 216 Legs 144) FI 72 ST 66 LG 0 AG 198
6 Missilers in RATMOUNT Lv 21 HP 504 (Body 168 Arms 216 Legs 120) FI 108 ST 0 LG 42 AG 208
2 Carriers in Natural Lv 21 HP 200 (Body 200) FI 0 ST 24 LG 0 AG 205
Military Commission 20000
Destroyed Enemy Bonus 13769
What can I say? The enemies have the terrain advantage and are bigger in numbers. But as usual they don't have a brain :P. So just blow them up. After the mission is over Hans picks up a signal of the enemy hideout, but you go south to the Soleit to recover and plan an attack for the next mission


(c)2006 RPGClassics.com. All materials are copyrighted by their respective authors. All games mentioned in this site are copyrighted by their respective producers and publishers. No infringement on any existing copyright is intended. All rights reserved.