Cheats
AUDIO TEST
When you start the game and the new game/load game option shows up, hold the L and R buttons, then press the down button, then press the A button. A new menu comes up with music and sound effects for your enjoyment.:D
ARENA TOWN
Colloseum freaks, rejoyce! This is the cheat for you! When the new game/load game options shows up, hold the L and R buttons, then press the up button, then press the A button. A new menu comes up allowing to play on this secret town.
CHOOSE YOUR MAIN CHARACTER (Or almost)
After entering any city, go to the status window and hold L, R and down button, then choose the character you desire to be the main character by pressing the start button. Then hold X and Y button while keeping L, R and down held. Then press B and voila! Maury is the main character! (gotta be kidding me...) I don't see the point of this except that when Lloyd speaks, his face is that of your chosen character. Same thing happens to the wanzer. Now you can have a boosted-up Natalie riding the Shrike and the normal Natalie in her Primrose during battle. Err...weird cheat.:P
ZIEGE GUN (Same thing as cheating)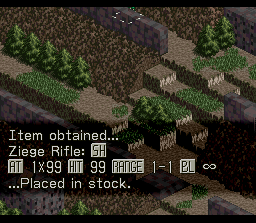 See this overly destructive weapon that you can find on the leftmost corner in Mission 15 (Where the cursor square is)? Not only it does insane amounts of damage, you also get over 700 exp everytime you use it (You get tons of experience even if you miss!). This isn't technically a cheat, but it's almost the same. Have fun with it.
VS. Play Codes
You can use some extra wanzers in the VS. Play mode (At the Colloseum), by choosing the option Input, writing the password, choosing the Manual option, then the Guest option (A new Wanzer should be on the list). You can add more than one wanzer if you wish. Here are the codes you need to input:
Driscoll's Wanzer

Driscoll's Second Wanzer

Grieg's SeaKing Wanzer

Kirkland's Wanzer

Olson's Wanzer

Koichi's Wanzer



(c)2006 RPGClassics.com. All materials are copyrighted by their respective authors. All games mentioned in this site are copyrighted by their respective producers and publishers. No infringement on any existing copyright is intended. All rights reserved.