Site Navigation

•RPGClassics Main
•Contact Pierson

Shrine Navigation
•Main Page
•Accessories
•Armor
•Bosses
•Enemy List
•Food and Cooking
•Game Mechanics
•Hardcore Mode
•Key Items
•Lens Guide
•Mini-Games
•Rune Bottle
•Shops
•Skills
•Spells
•Titles
•Tools
•Weapons
•Walkthrough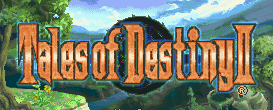 It looks like the PSP version of this has just been released, which means I have some updating to do. Unfortunately I don't have a PSP so if anyone notices any differences between what I have here and what is in the new version, please drop me an e-mail. Full credit will be given of course.

Hello and welcome to the all-new Tales of Destiny II (for PSX) shrine! Within I hope to have answered all your questions about anything you could possibly need to know about this fantastic RPG. As usual, if you think I've not included some strategy, or you have a better one, e-mail me with it and I'll get right into putting it into the site. Cheers. ;)



Created and Maintained by:

Tales of Eternia © 2000


Namco






(c)2006 RPGClassics.com. All materials are copyrighted by their respective authors. All games mentioned in this site are copyrighted by their respective producers and publishers. No infringement on any existing copyright is intended. All rights reserved.