Thanks
- Vincent Van Dam: For all of his help in researching the MSX, MSX2 and MSX2+ versions of Maou Golvellius. Thanks also Vincent for supplying the walkthrough to the MSX version of the game.
- Clint Dyer and Dominick Roman: For their combined efforts in the text walkthrough and a couple of the cheat passwords.

- To everyone else who has e-mailed me updates I could not catch myself.

- Compile and SEGA: For this game wouldn't be if not for them!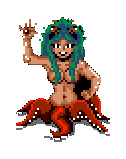 (c)2006 RPGClassics.com. All materials are copyrighted by their respective authors. All games mentioned in this site are copyrighted by their respective producers and publishers. No infringement on any existing copyright is intended. All rights reserved.