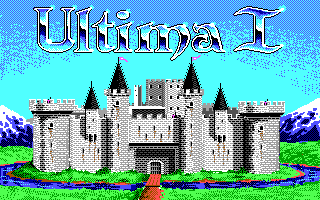 Welcome to your number one source for Ultima 1: The First Age of Darkness Information on the Web. The Ultima 1: The First Age of Darkness Shrine! This shrine is maintained by Teran. Send feedback here.
Ultima 1 was originally released for the Apple II computer in 1980. In 1986 they reprogrammed the game and re-released it for PC with 16-color EGA-graphics. That is the version which can still be bought as part of the "Ultima Collection". The shrine is based on this version, but the information found in these pages should help you with other versions as well (except the Gameboy Ultima which is a completely different game).
04/07/03
I added a section listing all versions of Ultima 1 and added some pictures to the walkthrough.
11/20/02
"Keyboard Command" Section added.
10/01/02
I added table backgrounds, because most people prefer them.
09/19/01
Dungeon-Section added. Many thanks to Scott Leonard (aka Trigon Dragon) to let me use his work from his Ultima Documentation Project.
08/16/01
This shrine opened today.
Ultima 1: The First Age of Darkness © 1980, 1986

Origin Systems, Inc.