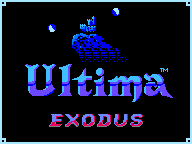 Welcome to your number one source for Ultima 3: Exodus Information on the Web. The Ultima 3: Exodus Shrine! This shrine is maintained by Teran. Send feedback here.
10/05/04
I added yet another cheat to the Cheats-Section which describes how to resurrect your party members for free. (Thanks to FlannelFlag for the information!)
09/29/04
Another big update to the enemies section thanks to Adam's continuous great work. Information about HitPoints of all the enemies has been added as well as a new monster ("Floors").
09/28/04
I added the "Devil" to the Enemies-section and added some more detailed info regarding the enemies' special abilities. I also fixed a small mistake in the map of Dungeon "Gold" level 8. (Many thanks to Adam Aull for providing me with all the infos!)
09/02/04
I added a cheat to the Cheats-Section which describes how to create a Ghost-Character which has an unlimited amount of items and gold. (Thanks to G-Paps for sending in this information!)
06/06/03
I fixed a small issue in the "Other Versions" section regarding the Atari 400/800 version of Ultima 3. (Thanks to Anthony Campbell for telling me!)
05/22/03
I modified/updated a small part of the walkthrough and corrected one mistake. (Thanks to Michael Pittner for telling me!)
03/26/03
The shrine has been faced with a major update with lots of things having been changed, added and deleted.

Added a section, listing all the versions of Ultima 3.
The dungeon section got a completely new set of maps.
I removed the NPC section, because it was pathetic and didn't contain any info at all.
I seperated the formerly combined Overworld and Towns section. On the other hand I put the town info on one HTML page instead of making one page for every single town.
The walkthrough got some illustrative screenshots.
Lots of small changes in the tables of the items, weapons and armor sections.
General optimization of the HTML code.
Most of the grammar and spelling errors should be corrected now.
10/01/02
I added table backgrounds, because most people prefer them.
08/22/02
The Music-Section got a small redesign. In addition I uploaded NSF-Music for the game.
08/16/01
I optimized the HTML-Code a bit and added a new cheat to the Cheats-Section.
02/14/01
I added a section with cheats.
05/24/00
This shrine opened today.
Ultima: Exodus © 1987

FCI / Ponycanyon